ACE FREHLEY LISTS HIS FIVE "ESSENTIAL GUITAR RECORDS"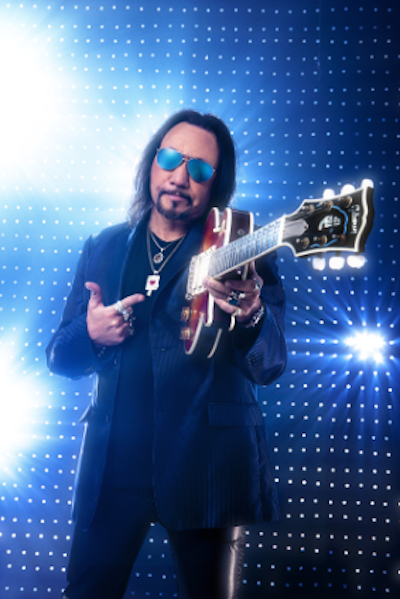 Ace Frehley shares his five essential guitar records with Classic Rock.
The Jimi Hendrix Experience – Are You Experienced (1967):
"It changed my life, no question about it. I used to walk around my high school with this album under my arm. It's groundbreaking in so many ways – nobody played guitar like Hendrix.
I was already playing the guitar for a few years, but when I heard Hendrix, it seemed so beyond everything else I was hearing at the time. He was doing something that was light years away from all of my other heroes. I used to slow down the record and try to figure out the solos. His use of effects, his composing, his phrasing – the guy was a once-in-a-lifetime talent."
Led Zeppelin – Led Zeppelin (1968)
"I'll never forget seeing Led Zeppelin's first New York appearance. They were opening up for Iron Butterfly at the Fillmore East. It was one of those nights you always hear about: Zeppelin played their set and just killed the place. Iron Butterfly had to follow them. Half the audience walked out.
I went out and got the debut record. I wasn't really familiar with Page before then. I liked the Yardbirds, but I always thought of Jeff Beck with that band. So putting on Zeppelin was a huge experience. His riffs, his sounds and his solos – he was like the complete guitarist. I became a massive fan right away."
The Who – My Generation (1965)
"What a great record. Fabulous songs. Pete Townshend wasn't a big lead guy, but he knew how to work chords. I learned a lot about my chord technique from studying Who songs. Pete Townshend can play the same chord on 20 positions on the next. He's a wizard.
I love their harmonies and the way they arranged their songs. The Who were a really smart band. Nobody played like Keith Moon – he didn't use a hi-hat. But it was all focused around Townshend's guitar. He had something pretty strong in his hands."
Cream – Fresh Cream (1966)
"This is the record I discovered Clapton on. Actually, I saw Cream. I was at their first New York appearance when they were opening up for Mitch Ryder and the Detroit Wheels. I had no idea what I was going to see, but I was blown away. Come to think of it, the Who were on the same bill. Those were great days.
I love the Fresh Cream record. Clapton is such a beautifully unique rock-blues guitarist. I've studied everything he's done, from Cream to Blind Faith to Derek and the Dominos and then the solo stuff. He's one of those guys who has something so singular – you know it's him, the second he plays a note. I definitely tried to take as much as I could from Clapton.
The Rolling Stones – Satisfaction (1965)
"It's a toss-up between the Beatles and the Stones – I love 'em both – but I'll have to go with the Stones because they were the bad boys. Picking a single album is hard, so I'll just go with the first song of theirs that really jumped out at me – Satisfaction.
I remember walking around the Bronx and hearing it on the radio. It was an incredible time. It seemed as if the song was everywhere. You'd hear it coming from windows, from car radios as people drove by. You just couldn't escape Satisfaction during the summer of '65.
Guitar-wise, there's that incredible riff, one of the greatest three-note patterns ever. It's so simple that you can't believe no one thought of it before. It wouldn't be the song it is without that riff. It sounded amazing coming through those little transistor radios. I went out and bought a fuzz box – I had to try to get that sound myself."
Read more at Classic Rock.
source: teamrock.com