ACE FREHLEY DISCUSSING THE CURRENT VERSION OF KISS SAYS, "IT'S HALF OF A COVER BAND"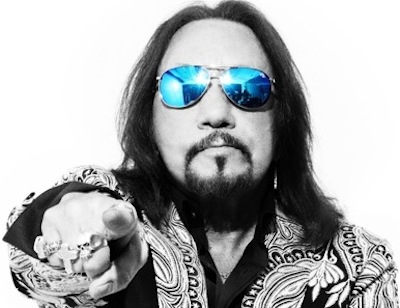 Ken Sharp of Goldmine Magazine interviewed original KISS guitarist Ace Frehley, portions of the excerpts appear below.
Goldmine: On the new album, Spaceman, you cover the Eddie Money song I Wanna Go Back. If you could revisit one moment in your life and go back again, what would you like to do?
Ace Frehley: That's a really hard question to answer. (long pause) Probably opening night of the KISS reunion tour in '96 at Tiger Stadium in Detroit. That was such a special evening. We sold out in like 48 minutes; it was crazy. I remember during that show feeling like I had time traveled. Here I am in the same costume with the same makeup on—the makeup kind of covers up your age a little with the white face—and I'm looking at everyone going, Is this a reunion or is this the '70s? (laughs).
GM: What has it been like to reconnect as friends independent of your tenure in KISS with Gene [Simmons], whom you'll be touring with in Australia, and Paul [Stanley], who sang Free's Fire and Water on your Origins album?
AF: It's been really good. I originally tried to contact Gene to work on a song on my Origins album. Over the years I've been friendlier with Gene more so than with Paul. Paul was always kind of the loner in the band. We knew Gene was off screwing some chick and me and Peter were together getting loaded or getting loaded separately. (laughs) But I never knew what Paul was doing or never really paid too much attention to it. That's kind of the way it was. But how I got Paul involved on my Origins album was I just gave him a call. I said, "Hey Paul, I'm doing this album and I wanted to see if you wanted to sing a song on it?" He said, "Yes, it sounds like fun." And I said, "It's an album of covers." We were kicking around a few song ideas. He brought up My Generation by The Who but I said, "I think that's a song that you can't really re-do because it's such a classic song." And then I said, "Let's think about it," and I called him back the next day and said, "How about Fire and Water by Free?" Paul's a huge fan of Paul Rodgers and he said, "I think that would be great." So I cut the track and I emailed him the Pro Tools files. He cut the vocal with his engineer and sent it back and we had a song. He did a great job with the track.
GM: Paul took part in the video shoot for Fire and Water as well.
AF: Yeah. Pretty much we had done all the principal photography and he was done and they were gonna shoot my smoking guitar in the hallway, which is offstage, just to get it intercut with the stage performances. I said, "Well, you can split now," and he said, "No, I'll hang around," which was really cool. We had a blast hanging out together. Being able to do projects with Paul and Gene has a lot to do with getting sober, that makes things much easier.
GM: Back in '67, '68 when you were 17 or 18 years old, if I walked into your bedroom what would I encounter?
AF: I had posters on the wall. I had a big Bob Dylan poster. I had a couple of paintings that I did up on the wall and albums covers as well. The ceiling had one bright light bulb in the center of the room and I had painted in luminous paint flames going away from the ceiling. So when you turned the lights off all of a sudden you'd see these flames coming away from the light. Obviously eventually it faded, just like on a watch dial. Then I had a multi-colored three-by-three foot painting I did in Day-Glo; it was an amazing painting. I remember going back to my mother's house to try and get it. We actually took a saw and cut the painting out of the wall but it crumbled.
GM: [Your song] Rockin' With The Boys was mooted to be penciled in for the KISS album (Music From) The Elder; 37 years later, it's being released. Did you work off of the original tapes?
AF: I wrote the chorus for Rockin' With The Boys in the '70s. But I could never come up with a good enough verse and bridge to make it a viable tune. I experimented and had several versions of that. When I do a box set of old tapes and old cassettes and demos and alternate solos, I'll probably include some of the earlier versions of Rockin' With The Boys, as well as some other songs I've re-written. Like, the song Pursuit of Rock and Roll on my new album has Anton Fig playing drums on that. I wiped all of the guitars and vocals and rewrote it. I did the exact same thing with the song Off My Back that was originally called Hypnotized, and it had completely alternate lyrics but I kept the solo. That track was recorded in the '90s. Anton is playing on Pursuit of Rock and Roll and Off My Back and they're both older tracks that I transferred from two-inch tape to a hard drive and then imported it into Pro Tools.
GM: You co-wrote two songs on your album with Gene, you're touring with Gene in Australia….fans are clamoring for you to be back in the band. What would you like to see happen?
AF: When I read the comments the fans make on the internet (every once in a while I'll spend a half hour or an hour reading comments) invariably 80-90% of the KISS fans want a full blown reunion. I don't know if that's possible; it could be a variation of it. There's no way KISS is gonna go out with a bang with the lineup they have now. It's half of a cover band. I love Eric (Singer) and I love Tommy (Thayer) but it's half of a KISS cover band. Paul and Gene are the two original guys and they've got two guys playing my part and Peter's part. I think it works better overseas or in South America where the people aren't as educated as to who is in the band but it's getting tired in America. Ever since 2014 when we were inducted into the Rock and Roll Hall of Fame, pretty much all of America realized that I was not in the band and Peter's not in the band and I think a lot of people in America weren't even sure that I had left. When they made the switch between me and Tommy they really didn't publicize it and I don't think they wanted to. I mean, I remember getting phone calls in 2008, 2009 and people would call me up and say, "Hey, you're playing my hometown, can you get me tickets?" and I'd go, "No, I'm not in the band anymore." I mean that happened multiple times. My departure from the band the second time around wasn't highly promoted.
GM: But you'd be up for a KISS reunion if asked?
AF: I would be up for it if the numbers were right and if it was presented to me in the right way, sure. It's not necessarily something that I am craving to do, but I want to do it for the fans because the fans are the ones who made us all famous and rich and turned us into superstars. I want to do what the fans want. I want to make the fans happy and it seems like that's the direction they are pointing towards. I'd be willing to do anything to make the fans happy.
Read more at Goldmine Magazine.
source: goldminemag.com