AC/DC GUITARIST ANGUS YOUNG ON HIS FUTURE, "AT THIS POINT, I DON'T KNOW"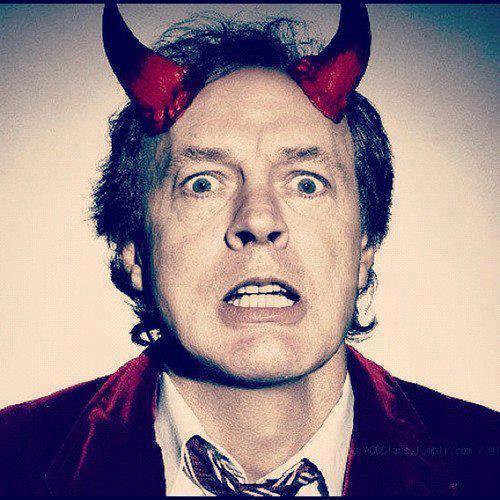 David Fricke of Rolling Stone spoke with AC/DC guitarist Angus Young. Highlights from the interview appear below.
RS: [Guns N' Roses frontman] Axl [Rose, who is filling in singer Brian Johnson] is used to running his own ship. Did you have to talk to him about how you do things – like being on time?
Angus Young: He's been really good. He prepares himself, ready to go. We sit and chew the fat before we get on, work out what songs we want to do. It's gotta be fun for him, and for us. In the beginning, he was confined [with a foot injury] to that chair he borrowed from Dave Grohl. But as soon as he could, he was out and moving.
RS: Does Axl sound more like Brian or the late Bon Scott?
Angus Young: He's more in the Bon style – the rock & roll character. And he's got his own folksy humor. He's pretty quick with a quip. Axl has different vocal ranges. You can hear him one way in a Bon song. Then he can flip and do Brian, the higher register.
RS: Was Brian having hearing problems before you started the tour?
Angus Young: He was having problems when we were rehearsing for Coachella [in 2015]. He already had one bad ear. He damaged it in a car accident. The one good ear was rapidly dropping. We were in Australia, and he was seeing a specialist. Each show he did, he had to get monitored and treated. But it was becoming too hard for him.
RS: Do you think Cliff's decision to retire is related to Brian leaving?
Angus Young: Cliff made it known before we'd even started touring – this would be his last. Besides myself, Cliff has been there the longest, since 1977. Cliff and Brian are in the same age bracket. They like to go out, hit the pubs. They had the bond.
RS: What is it like touring without Malcolm on guitar? Is your nephew Stevie filling that hole for you?
Angus Young: Sometimes I do a double take. I hear the sound behind me and think, "That sounds so Mal." When Stevie was younger, he really focused on what Mal did. It's not an easy thing. You gotta be solid, confident. It looks simple. It is definitely not simple.
RS: Do you now wonder if it was time to quit when Malcolm couldn't continue – that you pushed the band too far?
Angus Young: That might be the case. But Malcolm was always one to battle through. He would look at me in times of crisis and go, "We'll just go in and do some work. We'll sit and write some songs." He had that drive, and I feel obligated to keep it going, maybe because I was there in the beginning with him.
RS: Have you thought about your own future after the tour ends? You've never played in any other band.
Angus Young: That's true. At this point, I don't know. We were committed to finishing the tour. Who knows what I'll feel after? When you sign on and say, "I'm gonna do this and that," it's always good to say at the end of it, "I've done all I said I would do."
That was always the idea, especially when we were younger – me, Malcolm, Bon. You had to show up and be on time. You'd be playing in a pub in the afternoon. Then late at night, you'd be playing a club. You got into that habit: "If we don't play, we don't eat."
RS: Who else would you like to play with if you had the shot?
Angus Young: You'd have to resurrect a lot of people from the dead, I think [laughs]. I'd sit down with Keith Richards, do something. He's a rhythm guy like Mal.
Read more at Rolling Stone.
source: rollingstone.com