'80s VIRTUAL MUSIC FESTIVAL "RADICAL SABBATICAL" WITH BRET MICHAELS, KENNY LOGGINS, LITA FORD, SEBASTIAN BACH AND MORE, SCHEDULED FOR JANUARY 30TH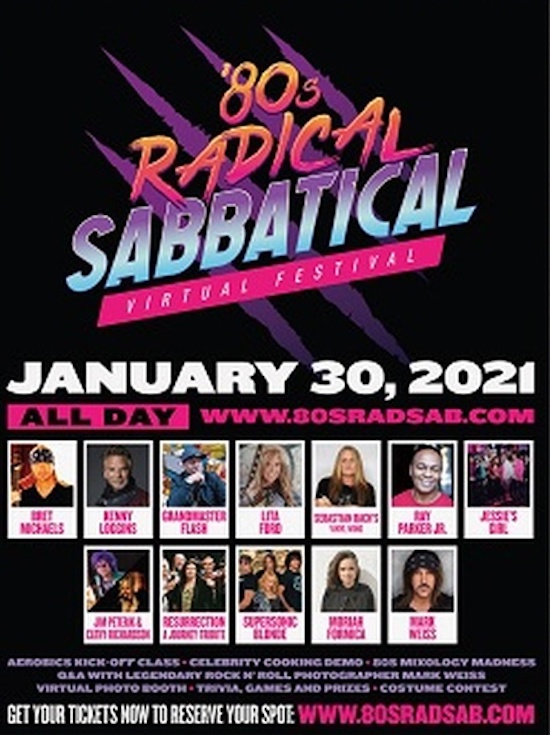 Grab your air guitar and good vibes to kick off 2021 in the most totally rad way: with the Radical Sabbatical, an '80s-themed virtual music festival scheduled for January 30th. 
Emceed by That One Guy, Todd Thomas, the eight hour online event will begin in the early afternoon and feature A-list musical performances, interactive demos like cooking and Mixology Madness segments, an '80s aerobics class to get the blood in your dance legs pumping, a costume contest with a prize of a trip for two, and a junior costume contest to win the coveted '80s American Girl Doll, as well as additional giveaways, trivia and more. 
Highlights include appearances by:
Bret Michaels, global music superstar and lead singer of 2021's The Stadium Tour headliner Poison, will perform his most iconic songs from his home studio; 
Sebastian Bach, Skid Row frontman, will host four Vinyl Wino segments and share his personal wine and music pairing recommendations; 
Singer Kenny Loggins, who will belt out his timeless tunes in a performance that spans decades;
Lita Ford, First Lady of Rock and Guitar-Pioneer; and
Cultural icon Grandmaster Flash, who will take participants on a journey through the history of rap and hip-hop.
Additional performances from: Ray Parker Jr. (of Ghostbusters Fame), Jessie's Girl, The World's Greatest '80s Band, Songwriter Jim Peterik and Jefferson Starship's Cathy Richardson, and singer/songwriter and The Voice contestant Moriah Formica. Claudia Wells of Back to the Future fame and legendary rock and roll photographer Mark Weiss, will also make live appearances. Last but not least, Resurrection, a Journey Tribute Band, and New York Rockers, SuperSonicBlonde, will also take the stage.
Tickets are available now at www.80sRadSab.com, and are $99.80 per household for an all-day pass that includes access to all concerts and activities. 
In addition to the $99.80 all-day access pass, true lovers of the 1980s can purchase special add-ons, such as:
A Meet & Greet with Sebastian Bach (+ $99): Available in limited quantities, guests will receive a live video call from the Legend himself (restrictions apply).
A Wine Flight Package Add-On (+ $89.99): A collection of four bottles of wine, two of which will be featured in Sebastian Bach's "Vinyl Wino" segment, will be shipped directly to those who choose this option. The package includes a Pinot Noir, Chardonnay and Cabernet Sauvignon from Fresh Vine in Napa Valley as well as the hottest Rose on the market, Race car Legend Danica Patrick's "Danica."
The Decade that Rocked Book Add-On (+ $66.99): Guests can go backstage with their own copy of "The Decade that Rocked," a history of '80s Rock N' Roll, which will also be autographed by the legendary photographer, Mark Weiss. This book is highly endorsed by the toughest critics – the musicians inside its pages.
A Mixology Madness Kit Add-On (+ $64.99): Shake it up with the Radical Sabbatical's Mixology Mavens. This kit includes four themed recipes and ingredients for 16 craft cocktails. All guests will need is their own spirit of choice.
A Back to the Kitchen Cookbook Add-On (+ $22.99): Grab a copy of this one-of-a-kind "Back to the Future Cookbook" featuring recipes from the '80s and the '50s. From Doc Brown's Time-Altering Chicken Pot Pie recipe to Goldie Wilson's Mayoral Tuna Melt, viewers can cook their way through the movie trilogy alongside Claudia Wells during the event's "Back to the Kitchen Cooking Clinic" segment.
I Want it All! Add-On (+ $225.00): Those interested in all of the add-ons — the wine flight, the Mixology Madness kit, the "Back to the Future Cookbook" and an autographed copy of "The Decade that Rocked" — can take advantage of this discounted price.
Radical Sabbatical was created by Clocktower Experiences, a small business based in St. Louis, Mo., founded by two women with deep experience in live event production.
"During this particularly challenging year for the live music industry, we decided to invest our resources in a safe and entertaining event that will also provide meaningful human connections," said Young. "We are also particularly proud that this event is putting hundreds of people back to work during a time that many in this industry are struggling so much." 
For more information and to purchase tickets, visit 80sradsab.com. On Facebook, find us at facebook.com/80s-Radical-Sabbatical, and on Instagram, @80sradsab.