ZAKK WYLDE ANNOUNCES WEST COAST ACOUSTIC TOUR, BOOK TO BE RELEASED IN PAPERBACK IN APRIL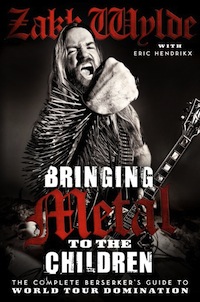 Zakk Wylde has announced a West Coast acoustic tour.
The tour, which begins on April 21st and ends May 1st, ties in with the paperback release of Bringing Metal to the Children: The Complete Berzerker's Guide to World Tour Domination on April 9th.
Zakk Wylde West Coast Tour Dates:
April 21 San Francisco, CA Independent
April 22 Chico, CA El Rey Theater
April 24 Salt Lake City, UT The Depot
April 25 Reno, NV El Dorado
April 26 Modesto, CA Fat Cat
April 27 Las Vegas, NV Hard Rock Hotel
April 28 Scottsdale, AZ Pub Rock
April 30 San Diego, CA Belly Up
May 1 San Juan Capistrano, CA Coach House
Tickets go on sale this weekend.
A promo video for the book appears below.