WHITESNAKE FRONTMAN DAVID COVERDALE DISCUSSES THE BAND'S NEW ALBUM AND UPCOMING TOUR, PLUS FORMER DEEP PURPLE BANDMATES, JON LORD AND RITCHIE BLACKMORE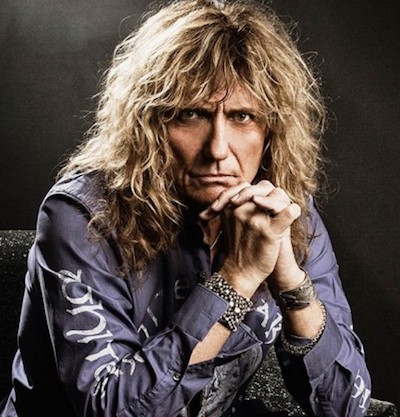 Greg Prato of Consequence of Sound spoke with Whitesnake frontman David Coverdale, excerpts from the feature article, appear below.
On the loss of Deep Purple keyboardist Jon Lord and reconnecting with guitarist Ritchie Blackmore:
I went out on the Forevermore tour, which was really successful. It was a two-year world tour. And I thought I could comfortably leave that as my last studio record. And then, the consequence of losing [Deep Purple keyboardist] Jon Lord — who called me, to tell me of his illness, that he had been diagnosed with pancreatic cancer, and [asked] if I would be there for him to do something Purple-related. Of course, I said yes. But I have no desire to go back — I love what I do — but Jon Lord's Jon Lord, and I love him dearly. Sadly, as you know, he didn't survive [Lord passed away July 16, 2012, at the age of 71]. A huge loss. It was a terrible, challenging time that my wife and I went through, because I lost Jon, I'd lost my favorite aunt, and my wife lost her beloved brother, in this small window of time. I was thinking, "What the hell am I supposed to learn from this? This is so savage." And my feeling was, "I want to reach out and reconnect with people — privately and professionally — as we're all getting older." At least Jon Lord knew that I loved him. We had certainly expressed that sentiment. He was absolutely pivotal in relaxing me at my audition for Deep Purple, and then the rehearsals for the Burn record. He was just a beautiful gentleman. But it also inspired me.
And I had a dreadful, 30-year competitive negative energy with [Deep Purple guitarist] Ritchie Blackmore. Who, initially, I was a disciple at his feet. I learned a great deal of things — and unbelievable amount. So, these two guys, Jon Lord and Ritchie Blackmore, were immense. And I thought, "I can't let this go." Ritchie was so important to me and pivotal in being who I am, and the generosity of these guys giving me — a complete unknown singer — the job with Deep Purple. When I reflect upon it, it's ridiculous. So, one of the people I reached out to bury the hatchet was Ritchie. And Ritchie, we shared our condolences on the loss of Jon, and were speaking quite regularly. He asked me to speak to his manager, Carol, who said, "Would you be interested in doing anything with Ritchie?" And I said, "Well, I really am really very happy with where I am. There was no agenda in me reaching out, other than to bury the hatchet — fueled by the horrible loss of Jon.
But I'm not really a nostalgia guy. I hadn't listened to the Burn or Stormbringer albums for years. So when I did, I went, "Geez, I got the Purple gig for my 21st birthday…my son is older than that now!" But I thought, "If I do this with Ritchie, I hope he'd be open to re-energizing some of these songs — they're beautiful and they stand up after 40 years." I came up with an idea for the song Sail Away, which would be more like Blackmore's Night — y'know, the Renaissance style that Ritchie embraces now. And then I really truly realized I didn't want to do it — with no disrespect to Ritchie. I just didn't want to go back. But I was talking to my wife, and I said, "It's such a pity — I've been messing around with these songs." She said, "Well, why don't you do it as a Whitesnake record, as a tribute to Deep Purple?" And I said, "Wow, I'd go out as I came in!" So, that's when Joel [Hoekstra] joined me. And we did a two-year tour on the success of the The Purple Album.
On the creation of Flesh and Blood:
…I got a phone call from my friend, Serafino, the owner of Frontiers Records — the biggest independent rock record company in the world — saying, "We'd really love you to do an album of original songs." And I'm going, "Man…I have so much on my table. I'm not sure. Really, 2017 is going to be more a year of recovery." And they just kept pursuing it. I called up Reb [Beach] and he flew in.
With all the years we'd worked together, I'd never sat down to write anything. I had no excuse. But Reb hung in there once Doug [Aldrich] and I went our separate ways. I invited Reb to be the band leader, and he was absolutely a tower of commitment to the Purple project, so I offered him a co-production scenario. But we'd never really written anything, but we'd have fun arranging Deep Purple stuff. So, I thought before I take this any further, I want to see if I can write with Reb. We started off very well and really successfully. And Joel had already been to my studio house at the end of 2016, because one of the projects we were looking at was a Whitesnake greatest hits — Unzipped, with a stringed orchestra. And we'd already written a song, After All, which ended up on this record. So, I flew Joel in, and once we'd gotten the "Night Ranger ideas" out of the way [Joel was previously a member of Night Ranger], it was all balls-to-the-walls stuff, and that gave me the strength to say to Frontiers, "I'm down."
It's so interesting though, because we have such an incredible, loyal audience, and they've stuck with David Coverdale and Whitesnake through thick and thin. And fortunately, we're not dependent on any kind of musical fashion cycle — we've always had a solid support for record sales and tours…It's very important as a musician or as an artist to feel that your audience feels that you're relevant, for you to feel relevant, and that you're not just going out there, treading on past glories. So, it all came together. And believe me, it was a f*cking challenge…
On what fans can expect on the upcoming Whitesnake tour:
We are also celebrating the 35th anniversary of the Slide It In album, so there will be a couple of Slide It In songs. We've got the real big Whitesnake songs that people certainly want to hear — Is This Love, Here I Go Again, Still of the Night — and I'm hoping that we can get in at least four, hopefully five, of the new songs in the show. Right now, the energy in the band… we have a band thread on texting, and it's just so electrifying. ..And I've got a Geico ad that's like, 270 millions views — it's ridiculous.
Read more at Consequence of Sound.