WHAT THE HECK WAS THE REAL STORYLINE OF KISS' "(MUSIC FROM) THE ELDER?"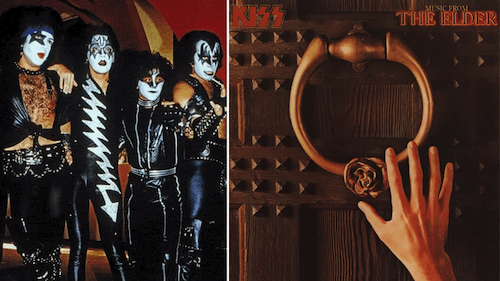 Greg Prato for ultimate-guitar.com reports:
Undoubtedly, the most controversial and analyzed album of KISS' entire career was 1981's (Music from) The Elder. The band's first release with drummer Eric Carr – who had replaced original member Peter Criss in 1980 – did not perform well throughout the world, as it only further contributed to the band's dwindling popularity at the time.
In an attempt to "be taken seriously" by critics and to try something that was a departure from KISS' trademark theatrical, party-hearty arena rock sound, the band – which also included guitarists Paul Stanley and Ace Frehley, and bassist Gene Simmons (all took turns singing lead) in addition to Carr – enlisted producer Bob Ezrin to oversee the subsequent concept album's creation. With Ezrin having already worked with the band on one of their greatest albums, 1976's Destroyer, it seemed like a wise move…but The Elder ultimately missed the mark with its overly bombastic approach (peaking at a mere #75 on the Billboard 200).
In my 2011 book, The Eric Carr Story, Ezrin (who previously produced classic albums by Alice Cooper, Lou Reed, and Pink Floyd) explained what the album's storyline was all about – which included plans for a film adaptation, which never materialized.
"There is a … I don't know if you want to call it a race, [but] there are guardians every generation, that protect the world from evil. And they are set apart from the rest of humanity. They're angels, in a way, and they're there to protect the world from demons. And that class of people, they are a collective conscience that is timeless and ageless. They are collectively referred to as "The Elder." And there's this young boy, who is obviously one of them. And there's the evil genius, Mr. Blackwell, which was an interesting choice of names, because [producer/Island Records founder] Chris Blackwell is a dear friend of mine. I don't know how we got to that, but I think it was actually Lou Reed that came up with the name 'Blackwell.' Because 'black' and 'the well,' the depths of evil and so on. Anyway, so this is the boy, and the idea was to kidnap him and kill him. But he prevails because he's 'the boy,' and he beats the evil Mr. Blackwell back, and he's the hero that saves the world. Basically. So, kind of a fantasy of a young boy with special powers, hence that song, Just a Boy.
Immediately following The Elder debacle, KISS returned to their trademark style/approach – resulting in one of their heaviest albums, 1982's Creatures of the Night.