WATCH WOLFGANG VAN HALEN PLAY PART OF "ERUPTION"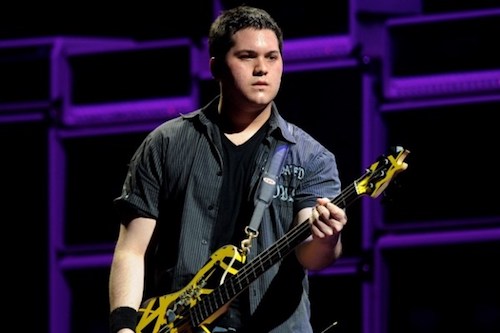 To celebrate the 40th anniversary of his father's iconic instrumental solo, Eruption, Wolfgang Van Halen, has posted a video, of himself, playing the piece. Listen to it below.
Eruption appeared on Van Halen's self-titled debut album the following year and was released on the B-side of Runnin' With the Devil – although Eddie himself had always doubted it was worth recording. He said in the book Van Halen Rising by Greg Renoff (as quoted by Van Halen News Desk), "Our producer, Ted Templeman, heard me practicing it for an upcoming gig and asked, 'What the hell is that?' I said, 'It's a thing I do live. It's my guitar solo.' His immediate reaction was, 'Roll tape.' I just didn't think it was something we'd put on a record. Everyone else agreed that we should throw it on."
Wolfgang Van Halen – who joined Van Halen in 2006 at the age of 15 – recently released a 10-second clip of a track from his upcoming debut solo album (see below), which he's been recording as a one-man project. His father confirmed the album was underway in 2015 and described it as "AC/DC meets Van Halen meets aggressive pop" and added, "The riffs are catchy. It's a little of everything and sounds like a freight train coming at you. I've never heard anything quite like it. It's so powerful that I'm jealous."
Wolfgang William Van Halen was born March 16th, 1991 and is the only child of guitarist Edward Van Halen and actress Valerie Bertinelli. He is named in honor of the classical composer Wolfgang Amadeus Mozart.
additional source: ultimateclassicrock.com