WATCH PROFESSIONALLY SHOT FOOTAGE OF METALLICA PERFORMING "ENTER SANDMAN" LIVE IN KENTUCKY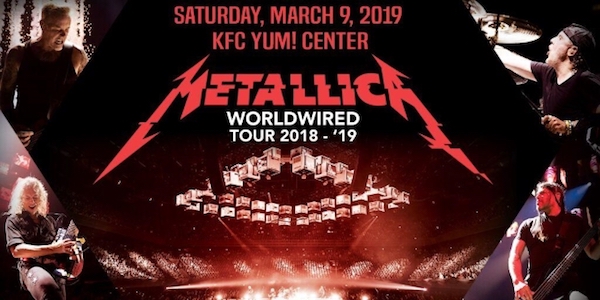 Professionally filmed video footage of Metallica performing Enter Sandman" on March 9th at Louisville, Kentucky's KFC Yum! Center can be seen below.
The band's concert at KFC Yum! Center shattered the venue's attendance record with a crowd of 23,084 fans on hand. The previous record was held by country legend George Strait, who drew 21,700 fans in 2014.
The show was staged in the round, with one square stage in the center of the arena floor, and a chair-free floor filled with fans.
The second North American portion of the group's WorldWired tour features a few firsts, including a "Light It Up" pre-show party hosted by the band's friend, comedian Jim Breuer; and a Wherever I May Roam Black Ticket that gives a limited number of fans floor access to any show on the tour.
The WorldWired show features the touring industry's first autonomous indoor drone swarm, with 99 micro drones dancing like fireflies for the song Moth Into Flame.