W.A.S.P. ADD ADDITIONAL SEVEN SHOWS TO "40TH ANNIVERSARY TOUR" WITH ARMORED SAINT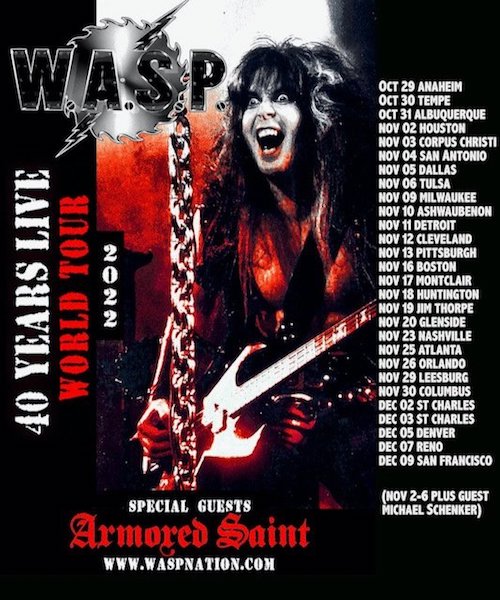 W.A.S.P. and Armored Saint, Hollywood's prodigal sons, are coming home to end their U.S. tour at the Wiltern Theater in Los Angeles. After selling out the first California show of the U.S. tour in Anaheim, W.A.S.P. has announced a concert at The Wiltern on December 11th. In addition, new shows in Las Vegas, St. Louis, Baltimore, Norfolk, Charlotte and Fresno have been added. General on sale for the new shows will be February 4th at 10 a.m. EST.
New shows added to the 40 Years Live U.S. tour:
Oct. 28 – Las Vegas, NV – House Of Blues
Nov. 8 – St Louis, MO – The Factory
Nov. 15 – Baltimore, MD – Rams Head Live
Nov. 21 – Norfolk, VA – The Norva
Nov. 27 – Charlotte, NC – The Fillmore
Dec. 10 – Fresno, CA – Tower Theater
Dec. 11 – Los Angeles, CA – The Wiltern
W.A.S.P. leader Blackie Lawless commented on the return home to The Wiltern in Los Angeles: "W.A.S.P. and Armored Saint started 40 years ago in Hollywood. We made our bones there, and were leaders of that now-legendary '82 and '83 Hollywood metal explosion that would go on to shock the rock world. I can think of no better way to end the 40th-anniversary tour of the U.S, for both bands, then to end this tour where we both started.
Sentimentality aside, this show won't be just a gig; this will be a once-in-a-lifetime, historic landmark event! Hollywood's prodigal sons are coming home.'
Armored Saint bassist Joey Vera said, "40 years ago, we stepped onstage in Hollywood and shared the wild club experience with W.A.S.P. In 1983, both bands had a hand in bringing this new genre, heavy metal, to Los Angeles. And now we're back at again like it was yesterday, except this time we're playing the legendary Wiltern Theater. This will be a night to remember."
Armored Saint singer John Bush said, "Super excited that the W.A.S.P. – Armored Saint tour is coming to the awesome Wiltern Theater. The Wiltern is one of my favorite venues in L.A. Every show is a memorable one. I expect this one to be more of the same. Let's sell it out, Los Angeles."
To read more about this event, and to view the previously announced tour dates, please go here.