UFO TO RELEASE FOUR CD BOX SET "LIVE SIGHTINGS" ON FEBRUARY 5TH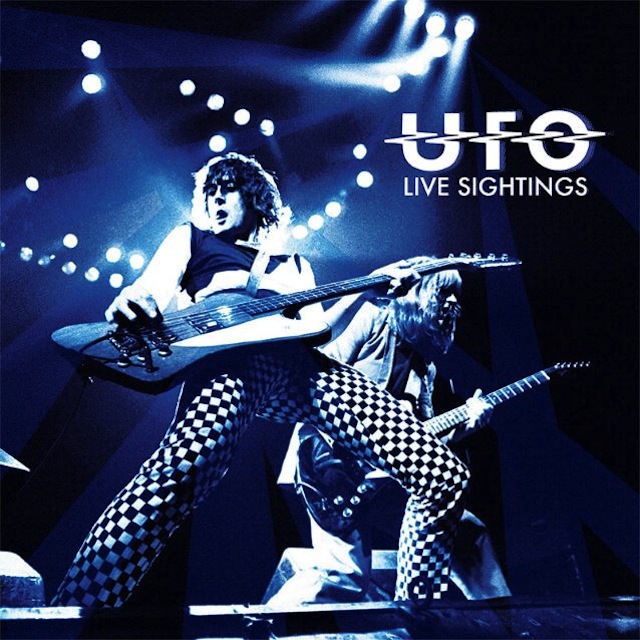 UFO shot across the '70s night sky, all flashing lights and roaring engines, streaking through Japan and Germany (where they abducted 18-year old Scorpions guitarist Michael Schenker) before descending on the U.K. and eventually American shores with a series of brilliant hard rock singles, including Lights Out, Too Hot To Handle, Doctor Doctor, Only You Can Rock Me and many more now ubiquitous radio staples. Though Schenker would depart in 1978, the rest of the band, including founding members vocalist Phil Mogg, bassist Pete Way and drummer Andy Parker, alongside lead guitarist Paul Chapman, retooled their spaceship and carried on into the early '80s dropping such influential classics as No Place To Run, The Wild, The Willing & The Innocent and Mechanix.
Now comes Live Sightings, a magnificent four-CD box set featuring vintage live performances from the early '80s that finds Mogg and Co. blasting through highlights from those three crucial records such as No Place To RunLonely Heart and We Belong To The Night, and seamlessly blending them in with the group's more well-known spawn. Boasting four CDs, each in its own mini jacket with printed inner sleeve, this extraordinary box set — due on February 5th through Cleopatra Records — also features a lavish 12″x12″ 16-page booklet with full color photos and extensive liner notes plus two carefully duplicated printings of vintage tour programs. There's even a special bonus live LP from 1972 of the only known recordings of guitarist Larry Wallis. Fans of UFO and early hard rock will not want to miss this incredible piece of music history.
Track listing:
Disc 1: Chicago 1980
1. Lettin' Go
2. Young Blood
3. No Place to Run
4. Cherry
5. Only You Can Rock Me
6. Love to Love
7. Mystery Train
8. Doctor Doctor
9. Too Hot to Handle
10. Lights Out
11. Rock Bottom
12. Shoot Shoot
Disc 2: Chicago 1981
1. The Wild, The Willing & The Innocent
2. Only You Can Rock Me
3. Long Gone
4. Lonely Heart
5. Cherry
6. No Place to Run
7. Love to Love
8. Making Moves
9. Mystery Train
10. Too Hot to Handle
11. Lights Out
12. Rock Bottom
13. Doctor Doctor
Disc 3: St. Louis 1982
1. We Belong to the Night
2. Let It Rain
3. Long Gone
4. No Place to Run
5. The Wild, The Willing & The Innocent
6. Only You Can Rock Me
7. Terri
8. Making Moves
9. Doing It All For You
10. Too Hot To Handle
11. Lights Out
12. Mystery Train
Disc 4: Cleveland 1982
1. We Belong To The Night
2. Let It Rain
3. Long Gone
4. The Wild, The Willing And The Innocent
5. Only You Can Rock Me
6. Terri
7. Doing It All For You
8. Too Hot to Handle
9. Lights Out
LP 1: Early Flight – 1972
Side A:
1. Silver Bird
2. Galactic Love
3. C'mon Everybody
4. Boogie For George
Side B:
1. Back In The USA
2. Mean Woman Blues
3. Stop Breakin' Down Blues
4. Johnny B. Goode