TWISTED SISTER RELEASE VIDEO FOR LIVE VERSION OF "YOU CAN'T STOP ROCK N' ROLL" FROM FORTHCOMING DVD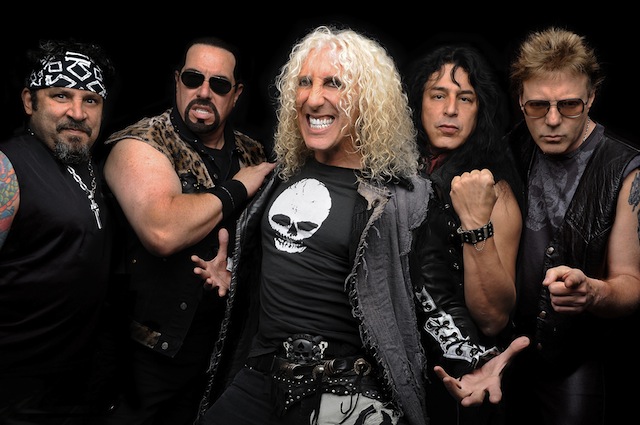 Twisted Sister have released a video of a live version of their 1983 song You Can't Stop Rock N' Roll from their upcoming Twisted Sister: Metal Meltdown Live at the Hard Rock Casino Las Vegas – A Concert To Honor AJ Pero DVD. It was filmed in the city last May. The show was dedicated to the memory of Twisted Sister drummer A.J. Pero, who had died two months previously, and featured Winery Dogs and Flying Colours Mike Portnoy behind the kit.
"Twisted Sister's late drummer, AJ Pero was literally the beating heart of our band, says frontman Dee Snider. "When the heart stops, the body is dead. But we needed to go on just a little longer to honour our fallen comrade and, with the help of the incredible Mike Portnoy, we did it for AJ."
"The decision to continue performing all the summer shows in 2015, not to mention the concert that this performance celebrates, was in jeopardy over the days immediately following A.J.'s sudden death," says guitarist JayJay French. "In the end, I believe we did what A.J. would have wanted us to do and Mike Portnoy was a very big part of that decision in both an emotional and artistic way.
"This performance captured herein just two months after A.J.'s death really was about our way to help memorialise the great A.J. Pero. The front four (Dee, Eddie, Mark and I) have had no one but A.J. behind us since 1982. This concert has A.J.'s influence permeating through our bloodstream in ways that I will never forget and when we cut to A.J.'s drum solo on the rear projection screen, We were all emotionally overwhelmed. Not since our reunion for NY Steel in 2001 ( Eddie Trunk's concert to honor and raise money for the families of the NYC police and fire department who died on 9/11) have I been moved to tears."
Twisted Sister: Metal Meltdown Live at the Hard Rock Casino Las Vegas – A Concert To Honor AJ Pero Track Listing:
1. What You Don't Know
2. The Kids Are Back
3. Stay Hungry
4. The Beast
5. Shoot 'Em Down
6. You Can't Stop Rock 'N' Roll
7. I Believe In Rock 'N' Roll
8. Under The Blade
9. I Am (I'm Me)
10. We're Not Gonna Take It
11. The Fire Still Burns
12. The Price
13. Burn In Hell
14. A.J. Pero Tribute
15. I Wanna Rock
16. Come Out and Play
17. S.M.F.
source: Classic Rock Magazine via teamrock.com/news