TOM KEIFER DISCUSSES APPEARING ON "LATE NIGHT WITH DAVID LETTERMAN" AND WORKING WITH COZY POWELL AND JOHN PAUL JONES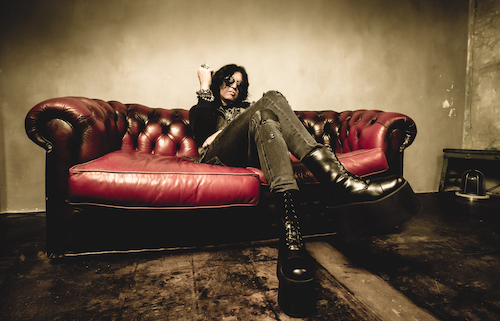 Ruben Mosqueda of Sleaze Roxx spoke with Tom Keifer. Highlights from the interview appear below.
Sleaze Roxx: Funny we should be talking right now. This Friday December 8th, 1986 was my first time seeing Cinderella. You guys were opening for [David Lee] Roth and it was an incredibly good time.
Tom Keifer: Oh, man. That was such an incredible experience opening for Dave. We went from playing clubs to opening up for the David Lee Roth Band in arenas. A lot of years went into constructing the songs and refining them — then boom. Lightning struck [laughs]! I tell people it's like this tornado picked us up and took us on this wild ride, which continues 'til this day.
Sleaze Roxx: You have been touring hard behind The Way Life Goes—your solo debut album. I picked the album when it was released three to four years ago. What I wasn't aware of is that the album was pulled?
Tom Keifer: It was released four years ago. Yeah, the story is starting to circulate in the press. The album took nine years to create. We worked on the album and there was no label involved. We completed the album and we found a label that was over the moon to release it in 2013. The Way Life Goes exceeded our expectations and received wonderful reviews.
The first single Solid Ground did very well on rock radio. We started touring this band. The press gave us great reviews. Then there was a corporate shakeup at the label and we got caught in the middle of it. Ultimately, this resulted in the album being removed from shelves and online. We've been touring as you stated for the last two years and we've had no album available. With all the work we put into creating it and all this promotion that we've done behind it; we decided to 'lawyer up' and get the masters back.
The idea was that once we got the masters back, we would reissue it but we wanted to get back in the studio with this band and cut some additional tracks. We spend about a quarter of last year working on the bonus content and the packaging. We also worked on a documentary on the recording of the bonus tracks for the deluxe edition. We are absolutely thrilled to have The Way Life Goes back available for people to purchase. I'm so proud of what we have done with the relentless touring, getting this band road tested, going from clubs to top billing on some festivals. We've had some curve balls thrown at us along the way but we've kept going.
Sleaze Roxx: A very cool moment after the initial release was your appearance on Late Night With David Letterman. What was that like? That must have been surreal.
Tom Keifer: Yeah, that was surreal. I had never done live TV before so it was a new experience. Honestly, I was a little freaked out about it [laughs]! I was kind of nervous for sure…That was a first in all my years. Even with Cinderella, I had never done live TV. It was great for the album and the band for sure.
Sleaze Roxx: Before I let you go, I have to ask what it was like working with [drummer] Cozy Powell [Whitesnake, Rainbow, Black Sabbath] and [bassist] John Paul Jones [Led Zeppelin]?
Tom Keifer: Both were amazing experiences. When we went in to record Long Cold Winter, we were in need of bringing in a drummer since Fred [Coury] wasn't going to do it, since he was a bit inexperienced in the studio at that time. [Producer] Andy Johns had to make that difficult decision. We were sitting in the studio with our A&R guy saying, "You know you can get anyone you want." I don't remember who but one of us said half jokingly, "Well, how about we get Cozy Powell [laughs]?" He's this legendary drummer as you know. The A&R guy looks at us and says, "Okay, done [laughs]!" It was really that simple. He came in to perform on the record and he was just simply amazing, particularly his chops. He was just so schooled in the blues and roots of jazz. You can hear that on the tracks Long Cold Winter and Coming Home. He had just such finesse and swing that really helped make that record what it is. The drumming just stands out on that record.
With John Paul Jones, I grew up listening to his playing, not just his bass playing but his orchestration that he did but also his work on the mellotron on stuff like the Rain Song and the colors that he added to the band. Funny enough, his name was brought up when we were recording Long Cold Winter. We had some orchestration mostly on Don't Know What You Got (Till It's Gone). We didn't use him mainly due to time and budget constraints but his name was in the back of my mind from there forward. Then when we went into recording the album Heartbreak Station. The songs Heartbreak Station and Winds Of Change had some rough strings that were on the demos that I had recorded on a synthesizer. I went to my manager and mentioned that Andy [Johns] had mentioned that if we were going to do this, that we 'really' do this and get John Paul Jones. We reached out to his management and we sent him the demos and he expanded on what I had done and added the orchestration. He flew in during the recording of the record and he directed the orchestra, while we watched [laughs]! Meeting him and watching him was just such an amazing experience. John Paul Jones is incredibly humble and down to earth. It was a pleasure to work with him.
Read more at Sleaze Roxx.
source: sleazeroxx.com