TO CELEBRATE IT'S 40TH ANNIVERSARY, RUSH WILL REISSUE "2112" WITH RARE TRACKS, LIVE TRACKS ON DECEMBER 16TH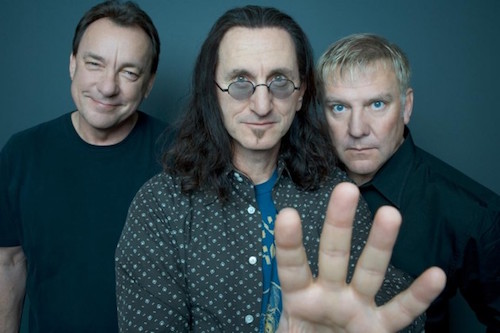 Daniel Kreps of Rolling Stone reports:
Rush will celebrate the 40th anniversary of their landmark 1976 album 2112 with a deluxe reissue featuring rare live and previously unreleased material alongside 2112 tracks covered by Foo Fighters' Dave Grohl and Taylor Hawkins, Alice in Chains, Porcupine Tree's Steven Wilson and more.
Called 2112 – 40th, the reissue will be released in a variety of formats on December 16th, including a 2CD/DVD edition featuring a newly remastered version of the album with the second disc housing live outtakes and the 2112 covers from Grohl, Hawkins and Nick Raskulinecz (Overture), Alice in Chains (Tears), Billy Talent (A Passage to Bangkok) and more.
The DVD captures Rush's 1976 performance at the Capitol Theatre as well as a video for Grohl/Hawkins/Raskulinecz's Overture and a retrospective look at the album 2112 – 40 Years Later, featuring a Q&A with Rush's Alex Lifeson.
A "Super Deluxe" version of the reissue includes the 2CD/DVD set alongside the 3LP 200-gram vinyl version, plus a host of bonus items housed in a box lined with velvet flocking: Two 12-inch x 12-inch lithos (artist Hugh Syme's original Starman pencil sketching and a 1976 Massey Hall ticket stub), a reprint of the 1976 Massey Hall handbill and three buttons featuring each band member.
The first 1,000 fans to preorder the Super Deluxe edition will receive a limited edition 7-inch pressing of the album's first single The Twilight Zone backed by Lessons and a custom red star 45 large hole adapter ring designed by Syme. Check out the Rush site for preorder information.
For the 3-LP edition, Rush replicated the hologram featured on the 2015 vinyl reissue of 2112, which included the remastered album but lacked the bonus materials. Each edition of 2112 – 40th includes extensive liner notes about the making of the album and newly designed artwork by Syme.
2112 – 40th Track List:
Disc 1: Original Album Newly Remastered by Abbey Road Studios
1.2112
I. Overture
II. The Temples of Syrinx
III. Discovery
IV. Presentation
V. Oracle: The Dream
VI. Soliloquy
VII. Grand Finale
2. A Passage to Bangkok
3. The Twilight Zone
4. Lessons
5. Tears
6. Something for Nothing
Disc 2:
1. Solar Federation
2. Dave Grohl, Taylor Hawkins and Nick Raskulinecz – Overture
3. Billy Talent – A Passage to Bangkok
4. Steven Wilson – The Twilight Zone
5. Alice In Chains – Tears
6. Jacob Moon – Something for Nothing
7. 2112 – Live at Massey Hall 1976 Outtake
8. Something for Nothing – Live at Massey Hall 1976 Outtake
9. The Twilight Zone – Live 1977 Contraband
10. 2112 1976 Radio Ad
DVD: Live at Capitol Theatre 1976:
1. Bastille Day
2. Anthem
3. Lakeside Park
4. 2112
5. Fly by Night
6. In the Mood
Bonus Videos:
Overture: Dave Grohl, Taylor Hawkins and Nick Raskulinecz
A Passage to Bangkok: Behind the Scenes with Billy Talent
2112 – 40 Years Closer: A Q&A with Alex Lifeson and Terry Brown
source: rollingstone.com