THE KISS SONG BASED ON THE ROLLING STONES' "BROWN SUGAR"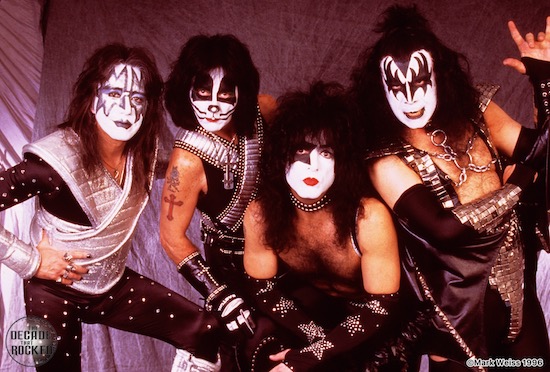 Matthew Trzcinski of Showbiz Cheat Sheet reports:
The Rolling Stones and KISS are both classic rock bands with a certain swagger, so it only makes sense one of KISS' more famous songs was an intentional Rolling Stones rip off. In fact, the song in question was originally going to have a name similar to the Rolling Stones song which inspired it. However KISS member Paul Stanley got in the way of that.
It all starts with rock n' roll singer Freddy Canon. He gave the world a hit song called Tallahassee Lassie in 1959. During a Rolling Stone interview, Mick Jagger said he wrote a groove for Brown Sugar which was reminiscent of the groove from Tallahassee Lassie.
Because of this, Brown Sugar could be seen as one of many examples of 1970s pop culture designed to emulate the 1950s. After that, the cycle of influence would continue when KISS drew inspiration from Brown Sugar.
KISS went into depth about the creation of their songs in the book KISS Behind the Mask: The Official Authorized Biography…KISS bassist Gene Simmons even said he tried to rip off the Rolling Stones' Brown Sugar with one of his band's biggest hits. 
"I told [KISS'] Paul [Stanley] I was writing a … song called Black Diamond and that I was going to rip off the Rolling Stones song Brown Sugar, Simmons admitted. "They sound like they're sisters, Brown Sugar, the younger sister of Black Diamond, who is the experienced prostitute walking the streets. That was gonna be my story, she's out on the streets for a living, Black Diamond.'
The following day, Stanley wrote another song also called Black Diamond. Because of this, Simmons changed the title of his song Black Diamond to Christine Sixteen. The finished song was not about a prostitute.
Christine Sixteen sounds like Brown Sugar but it has a very different subject matter. The former is about an older individual who falls in love with a 16-year-old while the latter is about the Antebellum South.
Read more at Showbiz Cheat Sheet.