TED NUGENT ANNOUNCES MORE "ADIOS MOFO" TOUR DATES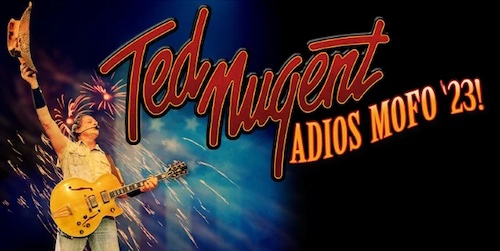 Ted Nugent has announced more dates for his last-ever tour, called Adios Mofo '23.
In a video message explaining his decision to retire from the road, the 74-year-old Nugent said, "This is Adios Mofo. This is my last tour. Now I'll always play music. I've got new records I'm gonna make. I can't wait to unleash some of these new songs. I've got an instrumental called Butter Fingers that is just greasy. You can't eat barbecue ever again adequately without the song Butter Fingers playing loud next to your brisket."
"The point being is thank you, everybody, for an incredible musical dream," he continued. "The musical dream will continue but I'm not going on tour anymore because hotels are jail. [Laughs] A hotel room is jail for me. My dogs won't allow me to not spend a day with them, so [my dogs] will go on the road with me this year. But the logistics are just too complicated when you have dogs and grandkids and kids and so many other things.
The point is the American Dream has a soundtrack, and with my unbelievable musicians for 65 years, I have created the most fun, titillating, centrally stimulating soundtrack in the history of the world.
"Like last year, in 2022, Detroit Muscle, this will be the greatest, most intense, tightest, most dynamic, outrageously fun tour of my life. But 'Adios Mofo'."
Tour dates are as follows:
Jul. 12 – Seminole Casino Hotel – Immokalee, FL
Jul. 13 – Hard Rock Live – Orlando, FL
Jul. 14 – Seminole Hard Rock Hotel & Casino – Hollywood, FL
Jul. 15 – Peabody Auditorium – Daytona Beach
Jul. 16 – Seminole Hard Rock Hotel & Casino – Tampa, FL
Jul. 20 – Blue Gate Performing Arts Center – Shipshewana, IN,
Jul. 21 – Hollywood Casino – Charles Town, WV
Jul. 22 – The Mill – Terre Haute, IN
Jul. 23 – Renfro Valley – New Barn Theater – Mount Vernon, KY
Jul. 25 – Kodak Center – Rochester, NY26 – Keswick Theater – Glenside, PA
Jul. 26 – Keswick Theater – Glenside, PA
Jul. 27 – Penn's Peak – Jim Thorpe, PA
Jul. 28 – Dragway 42 – West Salem, OH
Jul. 29 – RidgeFest at Freedom Park – Chicago Ridge, IL
Jul. 30 – RiverPark Center – Owensboro, KY
Aug. 2 – Starland Ballroom – Sayreville, NJ
Aug. 3 – American Music Theatre – Lancaster, PA
Aug. 4 – The Meadows Racetrack & Casino – Washington, PA
Aug. 5 – Clearfield County Fair – Clearfield, PA
Aug. 6 – The Adelphia Music Hall – Marietta, OH
Aug. 9 – The Temple Theatre – Saginaw, MI
Aug. 10 – Rose Music Center – Huber Heights, OH
Aug. 11 – Michigan Lottery Amphitheatre at Freedom Hill – Detroit, MI
Aug. 12 – Des Plaines Theatre – Des Plaines, IL
Aug. 13 – Arcada Theatre – St. Charles, IL
Aug. 18 – Ford Park Arena – Beaumont, TX
Aug. 19 – Billy Bob's Texas – Ft. Worth, TX
Aug. 20 – Heart of Oklahoma Expo Center – Shawnee, OK