STYX GUITARIST RICKY PHILLIPS DISCUSSES HIS WORK WITH RONNIE MONTROSE, HOPES TO GET UNRELEASED MATERIAL OUT BY THE BEGINNING OF 2017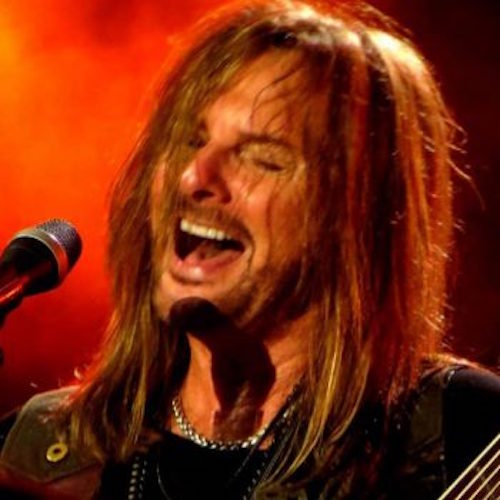 Ruben Mosqueda of Sleaze Roxx spoke with Styx guitarist Ricky Phillips. Excerpts from the interview appear below.
Sleaze Roxx: …And There's Coverdale/Page which you were a part of. I was looking at the RIAA page and the album achieved platinum status [1 million copies sold] in the United States. At the time, it was considered a "flop," but it sold a million copies. It's a good record.
Ricky Phillips: It went platinum relatively quickly too. I learned a lot on that record from Jimmy [Page] and David [Coverdale] making that record about the business. John Kalodner, a behind the scenes record guy who has made a lot of careers happen, really believed in it. John knew it was a great combination. David [Coverdale] got a lot of flak for sounding like Robert Plant. You know when Jimmy [Page] starts playing, that's what you do! [laughs] That's what comes out of your voice. That's what needs to be done! [laughs] That's what David was doing. I think he did an incredible job. I have some recordings of us working on material. I think those are even better than the record because we're fishing for ideas. That's really honest, pure creation happening there and I happen to have those recorded.
As time went on, Jimmy bought a home in Florida and he was moving there. Then we moved the recording to Vancouver, BC, and people got sick… A lot of stuff started happening. We spent about five months working and putting that album together. I'm not making any excuses because I think we made a great record. When we were making the video [Pride And Joy] Jimmy pulled me aside and said "I'm getting back together with Robert [Plant]." You know, there will always be those rumors that he worked with David just to get Robert to work with him. [laughs] I don't know that it's true. It makes me wonder. That's what I wondered at the time when he pulled me aside. That was the end of Coverdale/Page.
I had a blast hanging out with Jimmy. I was constantly asking him about The Yardbirds which is one of my favorite bands. Can you imagine a band that featured [Jeff] Beck, [Eric] Clapton and [Jimmy] Page at one time or another? He didn't seem to mind telling the stories. [laughs] On many levels, it was an interesting and educational time.
Sleaze Roxx: One thing I had no idea about was your work with Ronnie Montrose. How did you get connected with him and what has been your extent of your work with Ronnie? I'll be honest. The last Montrose record I heard was Mean back in the mid-'80s.
Ricky Phillips: I met Ronnie back in the early '80s through a producer friend of mine. He and Ronnie had done a project where it was just he and Ronnie on stage. It was extraordinary. It was probably overshooting for the average Joe. It was aimed for a higher brow musically. Ronnie had done the Montrose thing with Sammy [Hagar] and he had done Gamma which was a bit more "proggy." He wanted to do something new. If he had just stayed a rock guitarist, he have become a household name because he was so great at it. He is a guy that played those licks first and a lot of guys stole from him. I've been told this from guys I know that are in huge bands.
I went out to do shows with Ronnie along with Eric Singer [KISS, Alice Cooper, Badlands]. We had a few different singers. Ronnie loved the way we sounded and he was inspired to do another rock record. Eric, Ronnie and I went into the studio and laid down ten tracks. I started working with Styx and Eric resumed working with Alice and KISS back to back.
Right before I went on tour with Styx I received a call from Ronnie he said "Listen, I have an idea. I'm calling the record 10 by 10. We'll get 10 different singers, one for each song and we'll get this thing done." I said "That's a great idea Ronnie but we can't even think of one singer we like! How are we going to find 10?!" [laughs] He replied "Listen I'll call Sammy [Hagar] and ask if he can do one. I'll call Edgar [Winter] and see if he can do another. I'll call people I know." I didn't have the time to chase down people to sing on the album, but he did. He got them and then some. He got Mark Farner [Grand Funk Railroad], Gregg Rolie [Journey, Santana], Eric Martin [Mr. Big] and David Pattison [Gamma]. I got Tommy Shaw on one of the tracks. It became this cool project that had this really cool band.
The record sounds cohesive. It's a very interesting record. We finally found a home for it. We're having some meetings with a label about it getting released and I hope we have this album released by the beginning of 2017.
I jumped ahead a little bit. When I say that we recorded the album; drums, bass and rhythm guitars were done. Ronnie passed before he could lay down guitar solos. I mixed the record so that Ronnie was very big in the record. It was his concept so I wanted to ensure that he was represented on this record. I wanted to bring in guys that Ronnie was into to come in and record the solos for the album. I didn't get everybody that I went after but I think all the right guys are on the record. There's a great mix of singers and guitarists on there. I have Glenn Hughes on a track with Phil Collen from Def Leppard playing the solo, Sammy Hagar featuring Steve Lukather [Toto]… Eric Martin, I paired up with Dave Meniketti [Y&T] and on and on. We have Joe Bonamassa on there too. I also have Brad Whitford who is the unsung hero to both Ronnie and I in Aerosmith. He's the dark horse in that band. I called him and he was honored to be a part of it. I can't wait for you to hear the track with Edgar Winter and Rick Derringer. It sounds like it was lifted right out of the '70s.
I'm excited for the album to come out. There's been a lot of blood, sweat and tears put into this album and a lot of love. I think Ronnie will be looking down on us smiling when it's released. It's pretty special.
Read more at Sleaze Roxx.
source: sleazeroxx.com