STEEL PANTHER HONOR VAN HALEN BY COVERING "BEAUTIFUL GIRLS AND D.O.A"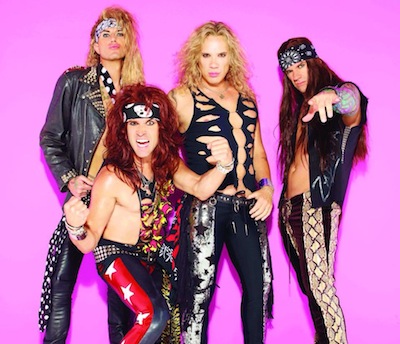 As the world continues to mourn the loss of guitar icon Eddie Van Halen, California glam metal jokesters Steel Panther decided to pay tribute to the legend the best way they know how — by going back to their cover-band beginnings. Steel Panther has recorded its interpretation of the seminal tunes Beautiful Girls and D.O.A. from the classic album Van Halen II. The songs have been some of the band's favorites to play live and that became the inspiration to actually record them after all these years.
Their versions of Beautiful Girls and D.O.A. are available via all streaming and digital platforms, and the band filmed a quarantine-style music video for each track.
Steel Panther said, "When we were playing weekly shows on the Sunset Strip, Van Halen music was essential to our set lists to keep the place rocking. The music of that band is what helped shape who Steel Panther is today. The loss of Eddie Van Halen has affected each of us in the band and these covers are our tribute to him to say thank you for the joy Van Halen music has given us."
Steel Panther band members guitarist Russ "Satchel" Parrish and singer Michael Starr used to play in a Van Halen cover band called Atomic Punks.
Watch Steel Panther's Van Halen tribute videos below. [Dana's note: As always if you have trouble viewing the videos, please refresh your browser until able to view.]