SLAYER'S TOM ARAYA SAYS THAT GUITARIST JEFF HANNEMAN IS STILL A MEMBER OF THE BAND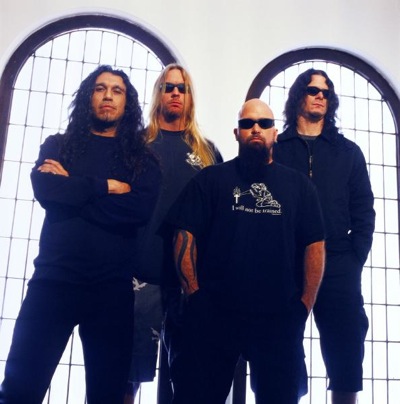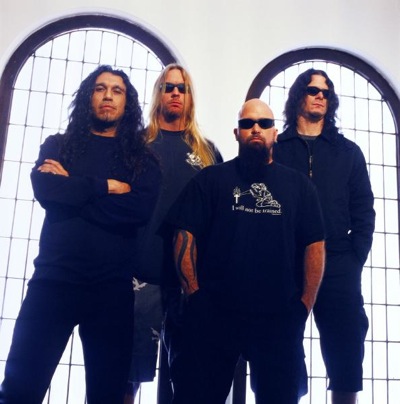 Slayer frontman Tom Araya insists that guitarist Jeff Hanneman is still a member of the band and that he hopes he is working on new music.
The frontman suggests that speculation over Exodus' Gary Holt joining full-time has been fueled by the band's internal communication problems.
Slayer's Kerry King recently said he'd be "okay" if Holt replaced spider-bite victim Hanneman on a permanent basis. Earlier this week Holt himself said he'd never consider the move if it meant he'd have to quit his own band Exodus.
The issue has been made more complex with the absence of drummer Dave Lombardo over a contractual dispute.
Asked if they themselves in a "then there were two" situation, Araya tells Andrew Haug, "It's not really two – Jeff isn't in the picture but he's part of the picture. It's taking him a lot longer than he even thought, I think. He can play, he can work out material, but it's surprising him that it's taking as long as it is to get back. Even though no one's seen him, Jeff's still part of the band."
While King has mapped out material for Slayer's next album just in case Hanneman doesn't contribute, Araya is optimistic. "We're hoping that he does have something – that's what he says."
The doubt can be explained by the way the band members keep in touch. "The communication in this band has never been a really good one," the frontman reports. "We communicate every now and again. Sometimes we never even return each others' calls – and that's for no other reason than we're lazy. There's no other reason.
"I'll send a text and I'm aware he's probably read it; he just hasn't replied. It's the same with me – he'll send me something and I might reply. I might not. It might be two months later. That's how it's been."
The band have laid down two tracks for the follow-up to 2009′s World Painted Blood, and hope to complete the album before the end of the year.
source: metal hammer