SLAYER'S HANNEMAN REMEMBERED AT THE GOLDEN GODS AWARDS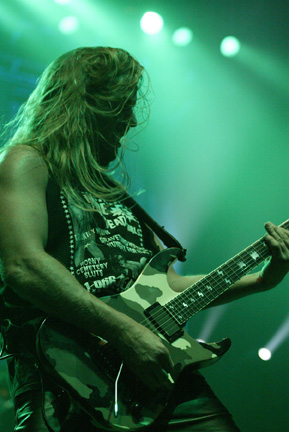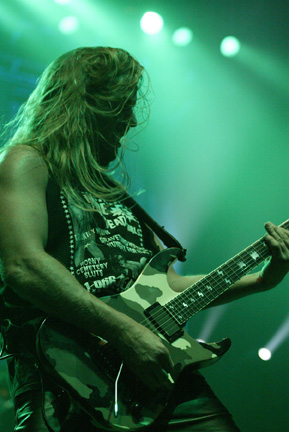 Slayer guitarist Kerry King led a tribute to his "fallen brother" Jeff Hanneman at the Revolver Golden Gods awards on April 2nd, bypassing the usual moment of silence for something a bit more appropriate.
"I thought 'should I do a moment of silence?' Fuck no. This is the Golden Gods man," he told the crowd. "Jeff fucking Hanneman, he played in Slayer. He does not want a fucking moment of silence, he wants a moment of fucking noise." The audience cheered and King added, "We've gotta fist-raise it up. Drink-raise it up and tip one back to our fallen brother." Zakk Wylde, who joined King on stage because they were presenting the best live band award, started the chant of "Slayer, Slayer, Slayer."
Hanneman died earlier in the day of liver failure, two years after he contracted necrotizing fasciitis — most likely from a spider bite — a quick-progressing disease that literally eats away at skin tissue.
Anthrax also paid tribute along with Pantera's Phil Anselmo on stage to perform his band's This Love but tagged it with the intro to Slayer's Raining Blood."
"I'd like to dedicate this song to Jeff Hanneman," Anselmo said before launching into the medley with Scott Ian and company. "In a token in the spirit that it's given."
Watch (Slayer tribute is at 6:00):
additional source: billboard