SLAYER WILL HOST "OLD SCHOOL SLAYER NIGHT" AT SUNDAY'S HOLLYWOOD PALLADIUM SHOW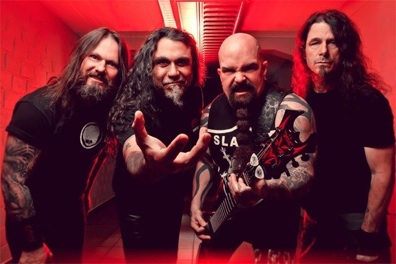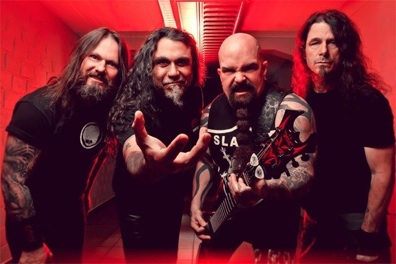 To help mark the band's very first performance at the Hollywood Palladium in 25 years, Slayer will play a special, one-time-only set at their show this Sunday, October 27th.
According to Kerry King, Sunday will be "Old School Slayer Night," and the band's set list will be comprised of songs dating back to the band's inception. The show will include tracks from the genre-defining Reign In Blood as well as South of Heaven, the band's second Gold album, up to and including 1990's Seasons In The Abyss, their third Gold disc.
"We're still putting together the set list," said King, "but we're going to make sure we play one or two rarities as well. Should be a lot of fun for the band as well as the fans."
Sunday and Monday's Palladium dates are part of Slayer's five-week North American headline tour – the band's first in two years – that begins this Friday, October 25th in Las Vegas. Slayer – guitarist King, Tom Araya/bass, vocals, drummer Paul Bostaph, and guitarist Gary Holt who continues to fill in for the late founding member Jeff Hanneman – will have Gojira and 4ARM support on all dates.
Confirmed dates for Slayer's 2013 Fall North American tour are:
10.25.13 Las Vegas, NV The Joint at Hard Rock Hotel & Casino
10.27.13 Hollywood, CA Hollywood Palladium
10.28.13 Hollywood, CA Hollywood Palladium
10.30.13 San Jose, CA Events Center
11.01.13 Seattle, WA Wamu Center
11.03.13 Calgary, AB Stampede Corrall
11.04.13 Edmonton, AB Shaw Center
11.05.13 Saskatoon, SK Praireland Park Center
11.07.13 Winnipeg, MB MTS Center
11.08.13 Minneapolis,MN Myth
11.10.13 Austin, TX Fun Fun Fun Fest @ Auditorium Shores
11.12.13 Houston, TX Bayou Music Center
11.13.13 Dallas, TX South Side Ballroom
11.15.13 Chicago, IL Aragon Ballroom
11.16.13 Detroit, MI The Fillmore
11.17.13 Columbus, OH LC Pavillon
11.19.13 Washington, DC The Fillmore
11.20.13 Pittsburgh, PA Stage AE
11.21.13 Toronto, ON Ricoh Colibsum
11.23.13 Montreal, QC Cepsum/ University of Montreal
11.24.13 Quebec, QC Pavilion De La Jeunesse
11.26.13 Wallingford,CT Oakdale Theatre
11.27.13 New York, NY Theater at Madison Square Garden
11.29.13 Camden, NJ Susquehanna Bank Center
11.30.13 Boston, MA Tsongas Arena