SLAYER FRONTMAN TOM ARAYA SAYS "WE NEED TO SIT DOWN AND TALK ABOUT THE FUTURE -IF WE HAVE A FUTURE"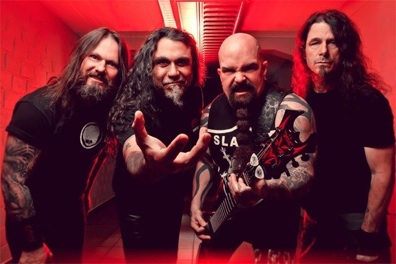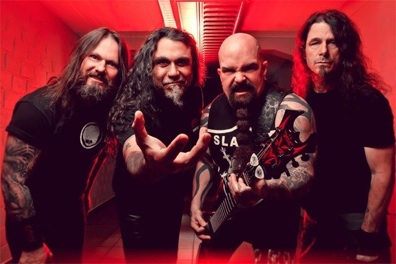 Tom Araya has revealed that the future of Slayer is uncertain following the death of guitarist Jeff Hanneman – and will remain so until he and band mate Kerry King sit down and evaluate the way forward at the end of their current tour.
Araya said, "At the end of this tour, Kerry and I are going to have to sit down and talk as far as how we want to move forward, if we want to move forward. There hasn't been time for me and Kerry to talk. We've been on the road but we haven't really sat down and talked about it. Jeff and I collaborated a lot, and he offered me the opportunity to write or to collaborate with him. Like I said, there are things we have to discuss to either move forward or just to figure something out."
Talking to Steppin' Out magazine, Araya admits the band hadn't considered that Jeff Hanneman would not survive and Araya says his death has "changed everything."
"Nobody ever thought about Jeff passing away. I thought about him getting better and getting back onstage. We've been talking about getting back in the studio for the last two years, with Jeff being a part of that. It was something to be continued. His death has changed everything. Knowing that Jeff was on the sidelines, I was OK. It was always about, 'Jeff is going to come back.' Then he passed away and it was more like, 'Why am I doing this now?' It changed my attitude about some things. Someone said, 'It's really great that you decided to tour and move on,' but these tours were scheduled in advance."
With Hanneman's passing so recent hitting the road again means the band are faced with constant reminders of their former band mate.
He adds, "It is hard. We toured Europe and South America. It got easier, but the first two weeks were rough. The first part of the set was great, the excitement and the roar of the crowd gets you going, but then toward the end of the set, it all starts hitting you. And to top it off, we had the backdrop with the Heineken logo with Hanneman's name on it come down for the last two songs, South Of Heaven and Angel Of Death. That didn't make it any easier at all. The first week or so, I had a tough time trying to sing without losing it. We did two tours in Europe and one in South America. I'm better now, but it's different. But still, even though I feel the way I feel, I give more than 100 percent. The show is great."
additional source: classicrockmagazine.com