SKID ROW SIGNS WITH GOLDEN ROBOT RECORDS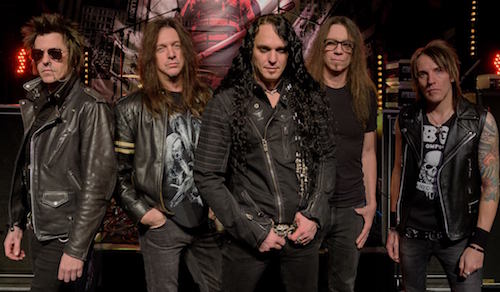 Skid Row has signed a worldwide deal with Australia's Golden Robot Records. The the final chapter of the band's United World Rebellion trilogy will be released later this year.
The album will mark Skid Row's first release with South African-born, British-based vocalist ZP Theart (Dragonforce, Tank, I Am I), who joined the band in 2016 following the departure of Tony Harnell (TNT, STtarbreaker).
"We are beyond excited to announce that we have signed with Golden Robot Records," says Skid Row bassist Rachel Bolan. "The label is the perfect balance between old-school way of thinking with digital age sensibilities. We can think of no better company to release our third chapter of United World Rebellionand our first record with ZP."
Adds Mark Alexander-Erber, Golden Robot Entertainment Group founder and president: "We are honored to welcome Skid Row to the Golden Robot Records family they have always remained true to their fans with authenticity and passion. We are more than excited to be part of their next chapter and journey with a brand new album."
The band's new album will feature collaborations with several outside songwriters, including Corey Taylor (Slipknot, Stone Sour) and Lzzy Hale and Joe Hottinger of Halestorm, a group that covered the title track of Slave To The Grind on its ReAniMate: The CoVeRs eP in 2011. Skid Row also worked with songwriter-for-hire Marti Frederiksen, who has previously collaborated with Aerosmith, Def Leppard, Jonny Lang and Sheryl Crow.
Unlike 2014's Rise Of The Damnation Army – United World Rebellion: Chapter Two" and 2013's United World Rebellion: Chapter One, Skid Row's forthcoming release will be a full-length record.