SINGER JOHN CORABI DISCUSSES HIS NEW SINGLE "COSI BELLA" AND ADDS HE WLL RELEASING MORE SINGLES BEFORE DOING AN ALBUM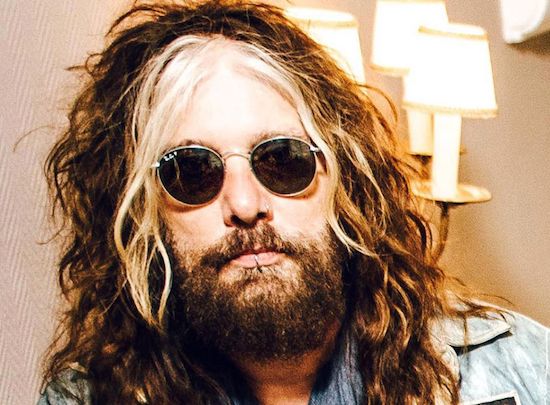 Ruben Mosqueda of KNAC.com spoke with singer John Corabi (The Scream, Mötley Crüe, The Dead Daisies), highlights from the interview appear below.
KNAC.com: [Your new single] Cosi Bella is currently available on streaming platforms. Is this song a precursor to a new album?
John Corabi: What I'm going to do…Marti Fredericksen, the guy that I co-wrote the song with and who produced it…Marti was the catalyst. He asked why I was doing a record? The more he talked to me about it, the more he convinced me to try releasing a single. His logic was that the established bands and artists made records because they knew how many records they were going to sell based on their fanbase. He said, "John you've always been this unknown commodity. The new way of doing things is digital releases. You release three, four, five songs then do an album." The plan is to eventually do vinyl and CDs, but when you really think about it, the days of Tower Records and Sam Goodys, Wal-Mart or K-Mart…they're gone. This is what Gene Simmons was talking about when he made that "rock is dead" comment. It's not because of audience attendance at the shows, they're still showing up. It's how the audience…since the invention of the cell phone…you have a computer in your pocket. You have Pandora, Spotify and all of these things built into your phone. You've got millions of songs at your fingertips…God even record labels are starting to drop like flies…The new thing is digital releases. It's a new world for me. I have no idea how to do this. This is my first song, I have a bunch lined up and ready to go. We're mixing and mastering them as we speak. I'd like to drop a new song with a video every month to month and a half. Let it stew for a little bit and drop another single with a video and see what happens. Over the past 10 years I have sold my records in one of three places, either Amazon, on my website or at the shows…
KNAC.com: What's the story behind the new tune?
John Corabi: I wrote the music first….It came about when The Dead Daisies went on to record the album Burn It Down, prior to us getting ready to write as a band…Once we all got together, I took it to the band, I played it to them. Collectively, they got what I was trying to do, but it wasn't in their wheelhouse. So, I just stashed it…Then 2020 came along, I called Marti because I wanted to do an album. I needed his help. He agreed. I pulled that out of the hat again. He said, "Really like that idea…then COVID hit, everyone went under a rock for a few months. I was here at my house, I was new to using Pro-Tools and I didn't just want to sit around on my thumbs. I wanted to be productive, so I started laying it down. I did the piano, the acoustic guitars and I did what they call a MIDI drum track on a drum machine with a rough bass guitar on it. I took that, put it in an email and sent it to Marti. He loved the idea and knew where I was going with it. He had his son Evan replay the drums, Marti replayed the bass giving it more of a [Paul] McCartney feel to it. So then, I had to sit down and write some lyrics. I really didn't have an idea of where I was going with it. It was weird, the first line came to me out of nowhere, "Here's a little song about a woman I know." I was like, "Cool." It just wrote itself. I didn't have anybody in mind. The one thing that is pretty much across the board, either male or female, there's that one person from your past…where you catch yourself thinking, "Man. I kinda screwed that one up. I wish I could do a do-ever". It might even be the girl who you knew in 3rd grade who you never had the guts to talk to her and share your peanut butter and jelly sandwich with. I think everyone has the one that got away and that is what this song is about.
KNAC.com: You've done a number of covers over the years, everything from Maggie May, to Patience, to Oh, Darling, to Only You Can Rock Me, and Used To Love Her. What's been your favorite?
John Corabi:  I have to be honest with you. You just mentioned it, Patience. I was just listening to that, I have no idea how I got listed as the singer on that? It's not me, dude! It might kind of sound like me, but I didn't record that song! I don't know how or why I'm listed as the singer on that song? I think it might be [Warrant singer] Jani Lane singing on that.
KNAC.com: Is it really?
John Corabi: Well, I'm not sure, but it's not me. It's funny because that's one of the most streamed and played songs on my Spotify playlist. I was listening to it the other day. My wife looks at me and says, "That's not you singing on that". I replied, "I know." I don't know why…that's not me singing on that song.
KNAC.com: That is you on Used To Love Her, right?
John Corabi: That is me. Patience, that isn't me singing on that.
KNAC.com: Patience aside, what was one of your favorite moments as far as covers?
John Corabi: I have to be honest with you, because I've done a lot of them. [long pause] I'm not proud that I did as many as I did…or some of the ones that I did. At the time Cleopatra Records was doing all of the "tribute" albums and I got asked to do them. They were paying really well. I'll be frank here, I kinda needed the money. I would go in and sing a UFO song or whatever. I'd walk in, they'd have the tracks done, I'd read the lyric and I'd record it, then they'd give me a check at the end. I would do three, four, five of them at a time. I was almost like being a "session musician." It was back in the day when I was going through all this s–t with Mötley, Union was struggling to get off the ground, I had child support, alimony and bills to take care of. I needed the money. There's a few that I'd like to take back, but for the most part, I really don't have any regrets about them, they served their purpose. I would say…man, I have to think about this. Which ones do I like? I do love Maggie May, which you mentioned. I also like the one I did with The Dead Daisies of Midnight Moses…that came out great. Oddly enough, I just did one with Brian Tichy and Robbie Crane not that long ago. Brian called me and asked me to do one for Chip Away At The Stone. That was a lot of fun and that is one of my all-time favorite Aerosmith tunes.
KNAC.com: If you had the opportunity to catch The Stadium Tour, would you? If so, what song would you be most looking forward to hearing?
John Corabi: I probably wouldn't go….I went to go see Mötley back when my tenure with the band ended. I saw them at The Hollywood Bowl, they were playing with Aerosmith. It was brutal because I wound up answering questions from the fans that recognized me. For that reason I probably wouldn't go. There's multiple reasons why I wouldn't go… I do have to say that for me, one of my absolute favorite…songs is Primal Scream. I love that tune, I love the riff, I love the drum beat, everything about it. I loved performing that one live. My relationship with them…if you've followed things…
KNAC.com: Which was more 'surreal', joining Mötley or having Glenn Hughes replace you in The Dead Daisies? He's featured on Misunderstood doing background vocals, is he not?
John Corabi: That's right, but let me tell you what is surreal, okay? When I was rehearsing with Mötley…I was in the band for maybe a month, if that. All of a sudden this guy comes in, you have to keep in mind, I didn't recognize him at the time. Glenn had some issues in his past, when I saw him he had gained some weight, he had cut his hair off. So, when he walked into the room I didn't recognize him. I was introduced and was told "Hey, this is Glenn." I was like, "Hi Glenn, nice to meet you." I was then told, "Hey, that's Glenn Hughes." I was like, "Oh shit, this is the guy who I stayed up till one o'clock in the morning watching in his white satin outfit at The Cal Jam, with waist length hair, doing those banshee screams on Burn. Oh, my God." That was surreal, because I was meeting someone that has always been one of my favorite singers. Meeting Glenn was "woah!" Then, he sang on the record with us, again "surreal." Then. when we played at the Palladium, he came on stage and sang with me. Then, when I found out that he's the one who replaced me in The Daisies, I was like "That doesn't suck." If you gotta be replaced by somebody, who else than a legendary Rock & Roll Hall of Famer? Glenn Hughes, awesome. We communicate with each other quite often via text or direct message. The minute I put out Cosi Bella and I posted the video, Glenn contacted me and he said "Great song Sir. Best of luck". I really admire Glenn. I think he's got an insane voice and what a great bass player, too.
Read more at KNAC.com and listen to Cosi Bella below.