SECOND ANNUAL "RIDE FOR RONNIE" MOTORCYCLE RALLY & CONCERT RAISES $50,000 FOR RONNIE JAMES DIO STAND UP AND SHOUT CANCER FUND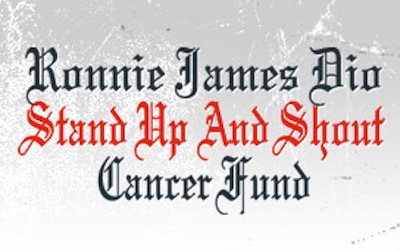 The 2nd Annual Ride For Ronnie Motorcycle Ride and Concert, held on Sunday, May 22nd, raised $50,000 for the Ronnie James Dio Stand Up and Shout Cancer Fund. Some 1000 people participated in the day's events, including 300 motorcycle riders who made their way from Harley Davidson in Glendale to an afternoon of live entertainment at Los Encinos Park in Encino, California.
Joining the ride were Sons of Anarchy cast members Emilio Rivera, Michael Beach, Star Fields and actor-musician Sean McNabb as well actor Al Coronel (The Last Ship) and musicians Lita Ford, EJ Curse, Taime Downe and Gilby Clarke. Wendy Dio, Ronnie James Dio's widow and co-founder of the Dio Cancer Fund, welcomed everyone before joining SUAS board member Scott Sentinella on his motorcycle for the 20-mile ride to the Park. Also riding was "Boston" Tom Foresteire on the Holy Diver Harley-Davidson motorcycle he won at the recent Street Party that launched this year's Ride. The one-of-a-kind motorcycle is custom-painted with the illustration from the cover of Ronnie James Dio's iconic Holy Diver album.
The afternoon's entertainment kicked off with Doctors of the Earth as the procession of motorcycles arrived at the Park. They were followed by sets from Sonia Harley, Budderside, Gabbie Rae, Dio Disciples, Lita Ford and headliners Great White. The festivities were hosted by DJ Will.
Wendy Dio and SUAS Medical Director Dr. Sandy Kapoor presented a check for $25,000 to Dr. David Wong, Director of the Dental Research Institute at the University of California Los Angeles to further his research into a saliva test for the early detection of cancer. Dr. Wong believes this simple, non-invasive test will be available for medical use within the next three years.
Assorted merchandise, a jumble sale booth, a silent auction and a raffle for a special limited edition ASG Vision Motörhead white-body guitar with the Ace of Spades graphic raised additional funds as did live auctions conducted by SUAS board members Adam Parsons and Danny Zelisko between performances. Among the live auction items were a B.C. Rich guitar signed by Ronnie James Dio, Rob Halford (Judas Priest), Bruce Dickinson (Iron Maiden), King Diamond and Geoff Tate, a custom-made leather "Kutte" motorcycle vest with a set of specially-embroidered Dio Cancer Fund patches and an ESP guitar signed by all of the event's performers.
The Sons of Anarchy cast members as well as Great White, Lita Ford and Dio Disciples signed autographs at special "Meet and Greets" during the afternoon. Rocker Gabbie Rae hosted a Meet & Greet following her set to promote Free2Luv, the Anti-Bullying initiative for which she is a spokesperson.
100% of the net proceeds from the Ride For Ronnie will go to the Dio Cancer Fund.