SAXON TO RELEASE "DECADE OF THE EAGLE" ON NOVEMBER 17TH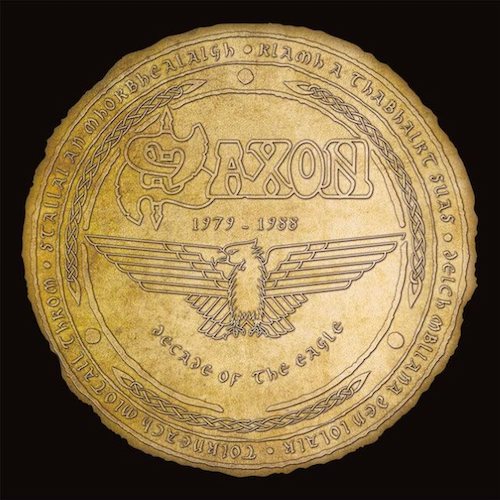 Saxon will release Decade Of The Eagle, a deluxe anthology featuring thirty-four tracks, on November 17th through BMG.
Decade Of The Eagle is a retrospective that spans the band's first nine albums and represents the very best of the first decade of their astonishing career during which time Saxon notched up five Top 40 albums and four Top 20 singles. These 4LP (180g vinyl) and 2CD deluxe editions are in a gatefold sleeve that features a special metallic embossed coin on the cover. They also include new liner notes by frontman Biff Byford that document the decade and which are accompanied by rarely seen and classic photos from the era.
Biff says, "These are the albums from a time in the eighties that moved a generation of rock fans around the world, when British rock was once again at the forefront. Great times — never to be forgotten and still reverberating to this day."
Saxon played a significant part of the New Wave Of British Heavy Metal movement, perhaps the greatest metal genre of them all and have become one of the all-time masters of heavy metal. In doing so, Saxon have ensured they are now representative of the heart and soul from the NWOBHM time. Always remaining true to the values which established them in the first place they are driven by a desire to continuously set the highest standards and meet them head on, Saxon's work on those nine studio albums still resonates resoundingly — this is timeless stuff.
Decade Of The Eagle track listing:
1. Stallions Of The Highway
2. Big Teaser
3. Backs To The Wall
4. Militia Guard
5. Wheels Of Steel
6. 747 (Strangers In The Night)
7. Suzie Hold On
8. Motorcycle Man (live)
9. Strong Arm Of The Law
10. Heavy Metal Thunder
11. 20,000ft (live)
12. Dallas 1PM
13. And The Bands Played On
14. Never Surrender
15. Denim And Leather
16. Fire In the Sky (live)
17. Princess Of The Night
18. Power & The Glory
19. This Town Rocks
20. The Eagle Has Landed
21. Midas Touch
22. Sailing To America
23. Crusader
24. Devil Rides Out
25. Back On The Streets
26. Rockin' Again
27. Rock N' Roll Gypsy
28. Broken Heroes
29. Waiting For The Night
30. Rock The Nations
31. Northern Lady
32. Battle Cry
33. Ride Like The Wind
34. Red Alert
To pre-order Decade Of The Eagle, please visit title
The band's new album, Thunderbolt, is tentatively scheduled for release in January 2018.