SAMMY HAGAR'S "BAD ON FORDS AND CHEVROLETS" FEATURING RONNIE DUNN STREAMING ONLINE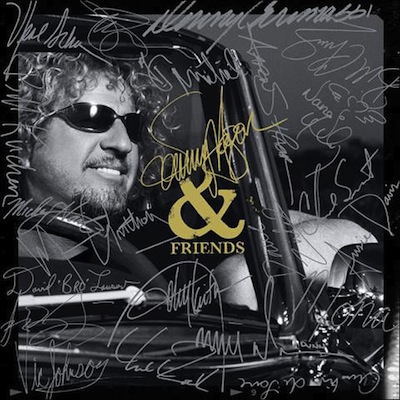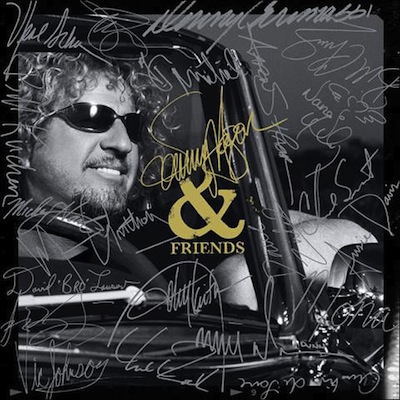 Gary Graff of Billboard reports:
Sammy Hagar & Friends started out as a markedly different idea than the Red Rocker wound up pursuing on the guest-filled set. Hagar tells Billboard that the album, which comes out September 24th, was initially designed to be part of his 40th anniversary as a recording artist.
"I was going to do an anthology record, four decades of rock, and I was going to license songs from each decade and have a two or three CD set," he explains. "And then I was going to write four new songs, one from each era. So there's be a Montrose-esque song, which is Not Going Down, and an early Sammy (solo) song, which is Bad on Fords and Chevrolets, and then a Van Halen-esque song and a lifestyle song, which is All We Need is An Island. Then I started recording the new songs and I wrote a couple more and started getting excited. I've always been anti greatest hits packages, anyway, and I thought, 'Y'know, I can still write. I can still sing. I can still go and make a great record,' so I kept going and the next think you know, I have a new CD."
Hagar will wrap up his current Four Decades of Rock tour on September 7th at home in San Francisco. Besides promoting the new album he's hoping to start a third Chickenfoot album before the end of the year, and he's also busy with his Beach Bum Rum line, a product made from Hawaiian sugar cane that he plans to hold onto and not sell it off like he did his Cabo Wabo tequila brand.
I didn't plan on selling the tequila but I got in over my head," Hagar explains. "Now I know what I'm doing a little more. I can see, kind of, what you can and what you can't do. I've got people involved who know what they're doing , so now I think I can keep my arms around it and stay with it. And like everything else I do it really goes hand in hand with the music, so I feel like it's all just part of one big thing, and that's great."
To read more, and to hear Bad on Fords and Chevrolets featuring Ronnie Dunn, please visit Billboard.
Sammy Hagar & Friends Track Listing:
1. Winding Down (with Taj Mahal)
2. Not Going Down (with Bill Church & Denny Carmassi)
3. Personal Jesus (with Neal Schon, Michael Anthony & Chad Smith)
4. Father Sun (with Denny Carmassi & Aaron Hagar)
5. Knockdown Dragout (with Kid Rock, Joe Satriani, Denny Carmassi)
6. Ramblin' Gamblin' Man (with David Lauser, Mona Gnader & Vic Johnson)
7. Bad On Fords and Chevrolets (with Ronnie Dunn, David Lauser, Mona Gnader & Vic Johnson)
8. Margaritaville (with Toby Keith)
9. All We Need Is An Island (with Nancy Wilson & Mickey Hart)
10. Going Down (with Neal Schon, Michael Anthony & Chad Smith)
11. Space Station #5 – Live from Ronnie Montrose Tribute Concert *
* Deluxe Bonus Track only
source: billboard.com