SAMMY HAGAR ANNOUNCES THE LINEUP FOR HIS INAUGURAL "HIGH TIDE BEACH PARTY & CAR SHOW" IN HUNTINGTON BEACH, CA ON OCTOBER 6TH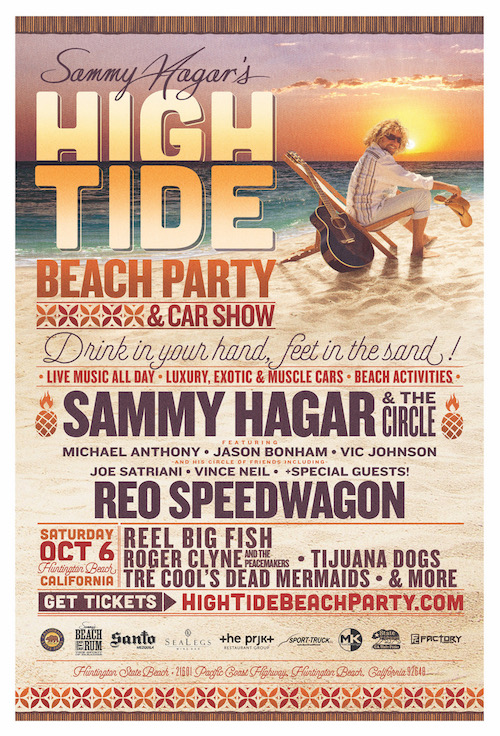 With a drink in hand and his feet in the sand, rock legend, Sammy Hagar today confirmed the initial lineup and details of his inaugural High Tide Beach Party & Car Show on October 6th on the shores of Huntington Beach, California. Sammy Hagar & The Circle (ft. Michael Anthony, Jason Bonham and Vic Johnson) and REO Speedwagon will headline — with special guests including Joe Satriani, Vince Neil and more performing with The Circle at the music fest.
The lineup will also feature performances from Reel Big Fish, Roger Clyne and the Peacemakers, Tijuana Dogs, Tre Cool's Dead Mermaids and more. View the entire lineup and details here.
icket presale begins Thursday, June 28 at 7am PT/10 am ET and the public on sale begins Friday, June 29 at 7am PT/10 am ET; visit hightidebeachparty.com to purchase tickets and to access full details on ticketing and the event.
In addition to the stellar lineup, Sammy Hagar's High Tide Beach Party & Car Show will showcase an amazing collection of luxury, exotic, European, custom, classic, movie and hyper cars – many as iconic as their owners. Fest-goers can enjoy several specially curated food and drink offerings including a beachside outpost of Sammy's legendary Cabo Wabo Cantina. The Cabo Wabo taqueria grill will serve authentic handmade tacos, delivering big Mexican flavors north of the border. Bars located throughout the fest will feature perfect cocktail pairings including margaritas and specialty drinks featuring Santo Mezquila and Sammy's Beach Bar Rum, as well as beer, wine and other refreshments. In true beach party fashion, the fest will also feature beach activities, games and more.
"I've been trying to throw this party on the beaches of Cabo for a decade and am thrilled someone's finally letting me do it and from one of the coolest beach cities in America – Huntington Beach," said Sammy Hagar. "This will be like my annual birthday bash on steroids. Surf's up is an understatement."
"We are excited to work with Sammy Hagar to bring his legacy to life with a Beach Party in Southern California," said promoter John Oakes."
Fans can enter to win a pair of VIP tickets to Sammy Hagar's High Tide Beach Party & Car Show including flights, hotel and special prizes by clicking here.