SAMMY HAGAR ANNOUNCES BIRTHDAY BASH 2020 BOAT-IN & PAY-PER-VIEW EVENT WITH NUGS.TV ON OCTOBER 17TH, EVENT INCLUDES THE CIRCLE+KEVIN CRONIN & RICK SPRINGFIELD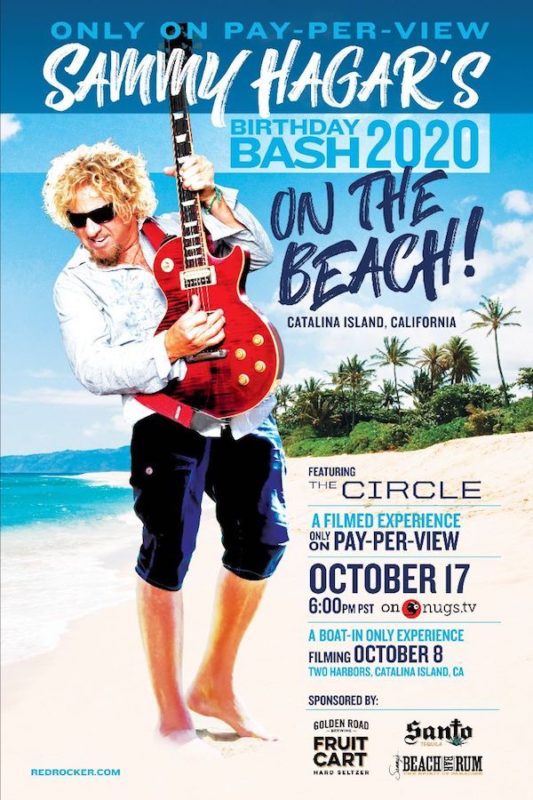 Rock & Roll Hall of Famer Sammy Hagar today announced that he's relocating his annual Birthday Bash from his legendary nightclub the Cabo Wabo Cantina in Mexico to the historic shores of Catalina Island, CA and teaming with nugs.tv, the leading music platform for live concert streams and recordings, to share it with fans everywhere as an epic pay-per-view stream on October 17th in HD and 4K. Sammy's Birthday Bash 2020 special will feature The Circle, his band with fellow Rock Hall of Famer Michael Anthony, Jason Bonham and Vic Johnson, as well as special guests including REO Speedwagon's Kevin Cronin and Rick Springfield performing from a specially erected stage on the beach of Two Harbors, Catalina Island in California and captured by 7 Cinematics, the world's foremost producers of live-music broadcasts and video streams, exclusively for the Pay-Per-View event. Filmed on October 8th, the only way to view it in person is via the boat-in, a limited amount of socially distanced chartered boats that have purchased mooring reservations in the bay at Two Harbors.
Fans can pre-order the HD stream for $24.99 or 4K stream for $49.99 from nugs.tv, and tune- in from home to watch it on October 17th at 6PM PT / 9PM ET, or watch it on-demand within 48 hours. Redhead fanclub members will receive a special $5 discount code which they can use to pre-order the PPV from October 6 – 12. Concurrently, a limited quantity of Sammy's Birthday Bash 2020 Bundles featuring exclusive new merchandise goes on sale today via shop.redrocker.com.
"I've been trying to make the birthday bash available to anyone and everyone for almost 30 years and this year under the dark cloud of COVID-19 we had to roll up our sleeves and put on our thinking caps to figure out a way to make it happen at all," said Sammy Hagar. "That's when this beautiful exotic island sitting right in front of our faces gave us the thumbs up. We're bringing the beach party to your house and for the first time we all get to be there. Are we having any fun yet?"
There are no tickets to buy and no one will be permitted to attend the October 8th filming on land at Two Harbors, Catalina Island. Adhering to strict Covid-19 regulations, the entire surrounding area will be socially distanced and enforced by the Los Angeles County Sheriff's department. The only way it can be viewed in person is onboard a boat with a reserved mooring at the bay at Two Harbors or from the comfort of your home via PPV on October 17th.
For more information on Sammy Hagar visit RedRocker.com.