"RONNIE MONTROSE REMEMBERED," A NAMM 2019 ALL-STAR MEMORIAL CONCERT HOSTED BY EDDIE TRUNK ON JANUARY 25TH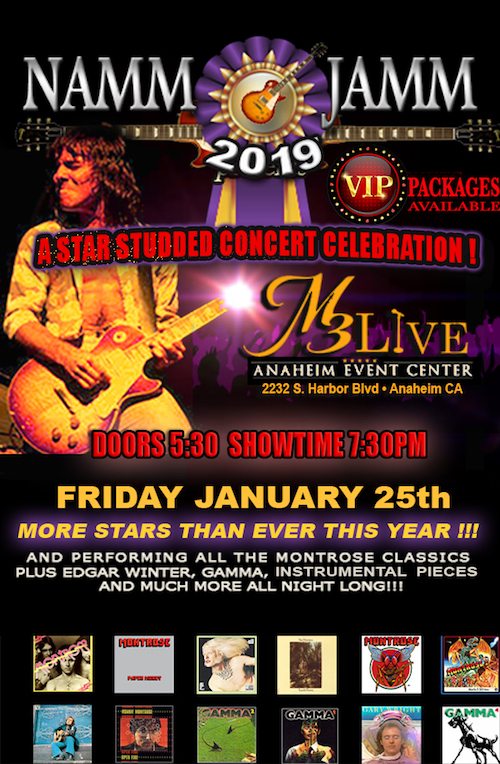 NAMM's most anticipated concert, Ronnie Montrose Remembered, will be held on Friday, January 25th at the M3 Live Anaheim Event Center. This All-Star extravaganza is hosted by Radio/TV personality, Eddie Trunk. 
Iconic American rock guitarist Ronnie Montrose will be saluted by a stellar All-Star line-up whose own careers were influenced by his legendary, powerful Montrose sound. This celebratory concert will highlight Montrose's career featuring his greatest hits from early Montrose, Edgar Winter, Van Morrison, Gamma and Ronnie Montrose Solo.
The incredible all-star featured performers include: Jack Russell's Great White; George Lynch (Dokken/Lynch Mob), Doug Aldrich (Whitesnake/Dio); Tracii Guns (LA Guns); Frank Hannon (Tesla); Keith St. John (Montrose/Kingdom Come); Dave Amato (REO Speedwagon); Derek St Holmes (Ted Nugent); Paul Shortino (Quiet Riot/Rough Cutt/Spinal Tap); James Kottak (Scorpions); Robert Mason (Warrant/Lynch Mob); Randy Jackson (Zebra); Phil Demmel (Machinehead/Slayer); Mic Mahan (Pat Benatar); Andrew Freeman (Last in Line/Offspring); Mitch Perry (Edgar Winter Band); Brent Woods (Sebastian Bach); Brad Lang (Y & T); Sean McNabb (Dokken/Quiet Riot), Jeff Kathan (Paul Rodgers Band); Marc Bonilla (Keith Emerson Band); Jimmy Paxson (Stevie Nicks/Dixie Chicks); Jimmy Degrasso (Ozzy Osbourne/Ratt); Jim Wheeler (Loggins and Messina); Ed Roth (Annie Lennox) – Plus more artist's being added daily.
This year the show will proudly feature a presentation of Guitar Player Magazine's Rock the Nation award in Ronnie Montrose's name. This national award was created to honor a young guitarist who exudes "a star quality through his or her expression on the instrument." This young prodigy will also perform a song in the show alongside these rock legends honoring Montrose.
Tickets:
GA $25
VIP $90 (Includes signed poster, exclusive Red Carpet access, backstage access plus M&G + more).
Buy here.
Former Montrose lead singer and event producer, Keith St John was with Montrose for the last 13 years of Ronnie's life. "I just want to give those who really appreciate Ronnie the chance to get together in a loving concert setting where all these great players and fans of the late Ronnie Montrose can really dig in and enjoy each other through the commonality of his music," explains St. John. After a long battle with cancer, it has been almost seven years since Montrose ended his life and St John wants his legend to continue. "Ronnie's contribution to rock music in the early 70's heavily influenced the up and coming American rock guitarists for next two decades more than he probably ever realized or gave himself credit for."
The band was on top of the charts in the 1970s when Sammy Hagar was vocalist, with tunes like Rock Candy, Bad Motor Scooter and Space Station #5. When St John teamed up with Montrose they continued to entertain until right before his death, filling clubs and festivals around the world. St John wrote many unreleased tunes with Ronnie Montrose, some performed at concerts throughout the years.
George Lynch remembers the influence Ronnie Montrose played in his own playing, "In my younger days Montrose was one of those bands my peers and I felt we discovered. They were the underdogs that we could identify with, and emulating Ronnie's riffs helped shape the next generation of guitar players like myself and greatly influenced my approach to writing guitar based music!"
A donation from concert proceeds will be made to the charity Sweet Relief, which aids musicians worldwide with special attention to medical needs. Montrose was an advocate and donor to the organization that has helped many with their needs such as housing.
For more information on this event, and for musician updates, please visit ronniemontroseremembered.com.