ROCK N' ROLL MEMORABILIA AUCTION TO GENERATE FUNDS FOR "RONNIE JAMES DIO STAND UP AND SHOUT CANCER" FUND, DOZENS OF DONATED INSTRUMENTS AND COLLECTIBLES WILL BE AUCTIONED ON DECEMBER 2ND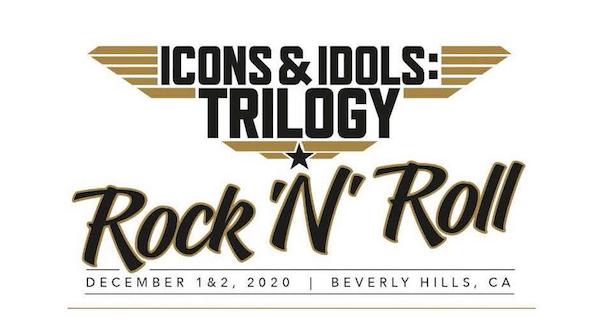 The Ronnie James Dio Stand Up and Shout Cancer Fund, founded in memory of the world-renowned voice of Dio, Rainbow, Black Sabbath and Heaven & Hell, will participate in the upcoming Icons & Idols: Trilogy Rock 'n' Roll Auction conducted by Julien's Auctions live in Beverly Hills and online at www.JuliensAuctions.com on December 2nd at 10AM Pacific time. Dozens of items of rock memorabilia, among them stage clothes, vintage music collectibles and guitars and drum heads signed by a variety of celebrities from the music world, will go on the auction block to benefit the Fund's mission of cancer prevention, research and education.
Among the guitars being auctioned in the collection is a Limited Edition Les Paul style electric guitar by ASG that is part of a limited series of 30 featuring the artwork from the Dio band's groundbreaking debut album Holy Diver and engraved pickup covers, inscribed with "AP/30" indicating its place in the series.
Another highlight is an actual stainless steel kitchen sink signed by the members of Tool: Maynard James Keenan, Danny Carey, Adam Jones, and Justin Chancellor. According to Warren Christensen, manager of the band and supporter of the Dio Cancer Fund, Tool members are generally reluctant to sign items to donate. However, when presented with "the kitchen sink" and a good cause, they couldn't resist.
Also included in the collection are guitars signed by artists such as Lita Ford, Nancy Wilson of Heart, John 5, Avenged Sevenfold, Motörhead and Slash. A Jackson Chris Broderick signature model soloist electric guitar played on stage by Broderick with his band Megadeth; a Schecter Omen Solo 6 electric guitar signed by 15 musicians including Eddie Money and members of Dio, Quiet Riot, and Buckcherry, a variety of tour jackets and collections of vintage Fleetwood Mac and 1960s Beatles memorabilia will be part of the auction.
Public Exhibition And Live Auction Location:
Julien's Auctions Beverly Hills
257 N. Canon DriveBeverly Hills, CA 90210
Viewing Daily: 11:00 a.m. – 5:00 p.m. Pacific Time
Monday, November 23rd – Friday, November 27th, 2020 (Closed Thanksgiving Day) and Monday, November 30th, 2020
Free to the Public
Dio Cancer Fund Items will be auctioned on
December 2nd, 2020
Session III: 10:00AM Pacific Time
Registering to Bid Registration is required to bid in this online auction and can be done in person at the exhibition, or online before the sale at the JuliensAuctions.comRegistration page to bid by phone, proxy or in person, or online at JuliensLive.com to bid live online, or by calling (310) 836-1818.
Placing Bids
There are four ways to bid in Live Auctions:
-Bid with Julien's Auctions online and live in real time at JuliensLive.com or via our iPhone App.
-Bid over the telephone through an auction house representative.
-Bid in person in the room at our auction events
-Bid in advance by absentee bid. Absentee bid forms are printed in the back of each catalogue, and are also available by calling Julien's Auctions or online by visiting www.juliensauctions.com/register-to-bid.
Photos of auction items available upon request.