ROCK N' ROLL HALL OF FAME VOTERS SNUB HEAVY METAL, AGAIN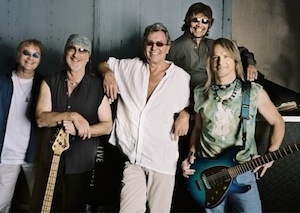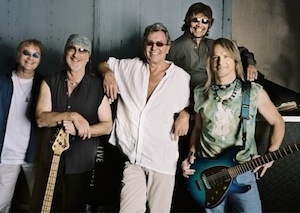 Ethan Sacks of the New York Daily News reports:
Heavy metal fans are left banging their heads … against the wall.
On Tuesday, the Rock and Roll Hall of Fame unveiled its 2015 class of inductees, and once again iconic hard rock and metal bands like Deep Purple, Iron Maiden and Judas Priest were strummed off the list.
What really gets Anthrax guitarist Scott Ian's goatee is the long-running omission of Deep Purple, a band the Queens-born rocker feels should get the same respect as Led Zeppelin.
"Just based on the intro riff to Smoke on the Water which came out in 1972, it's safe to say that almost every guitar player in a band that did make the Hall of Fame, picked up a guitar because of that riff and learned how to play off that riff," says the Queens-born rocker.
"That song alone should gets Deep Purple into the Hall of Fame. Just Ritchie Blackmore's riff alone. That intro defines rock n' roll."
Ian wishes the Rock and Roll Hall of Fame operated more like Cooperstown. "When you talk about sports, you look at the stats, it's all math," says Ian. "Babe Ruth hit x average and x home runs and so he gets in. Numbers don't lie. When it comes to music it comes strickly down to taste."
In the case of the Rock and Roll Hall of Fame, relatively small selection committee comes up with a pool of nominees that are voted on by a group of more than 600 artists and music professionals. On average a group of five to seven acts make the final cut each year.
And judging by the results, not many of those 600-plus voters own a Metallica T-shirt.
"Iron Maiden goes to anywhere in the world and they play in front of 50,000 people by themselves and you telling me they don't f— belong in there?," Exodus lead singer Steve "Zetro" Souza complained to the Daily News.
"In our type of music, we don't expect kudos," added the thrash rocker, whose band's latest album, Blood In, Blood Out, reached the Billboard's Top 40 charts. "But it's hard not to be disappointed by the voting."
Radio host Eddie Trunk says he's given up on any semblance of respect for the uneven way the Hall has honored certain bands and ignored others with longer track records of success.
"How can you have a Hall of Fame where it takes Kiss, Rush and Alice Cooper twenty years to get in," he says, "but Green Day and Guns N' Roses go in on first ballot and Deep Purple doesn't get in."
Last year, he attended the induction ceremony in Brooklyn as a guest of original Kiss guitarist Ace Frehley and had an epiphany: he's not going to pull his hair out any more over the continuing snubs.
This is a symptom of the disrespect across the board toward hard rock and heavy metal," says Trunk. "The Grammys haven't gotten any better since they gave Jethro Tull a Grammy instead of Metallica (for the first ever Best Hard Rock/Heavy Metal Performance trophy in 1989)."
Exhibit A of that lack of respect: late, great Slayer guitarist Jeff Hanneman was a glaring omission from this year's In Memoriam segment at the Grammy Awards.
While touring with Exodus in Cleveland last year, Souza got to visit the Rock and Roll Hall of Fame and Museum for himself for the first time. And his reviews are mixed.
"There was a Bruno Mars suit there, but he didn't put in the time," says Souza. "There's a Katy Perry dress there, but she hasn't put in the time."
Still, it heartened him somewhat to see some of metal acts like Black Sabbath and Metallica have their own displays. It's a start. But call him when Maiden and Priest, Saxon and Scorpions make the cut. He's not expecting any love for his own band, which has been the soundtrack for moshpits since the mid-80s.
"For those of us who have been doing this for thirty years, we don't care about or expect anything from the establishment," Souza says.
source: nydailynews.com