ROB HALFORD SAYS "IT WAS MAGICAL" PERFORMING WITH FORMER JUDAS PRIEST BAND MEMBERS, K.K. DOWNING AND LES BINKS, AT THE ROCK HALL INDUCTION CEREMONY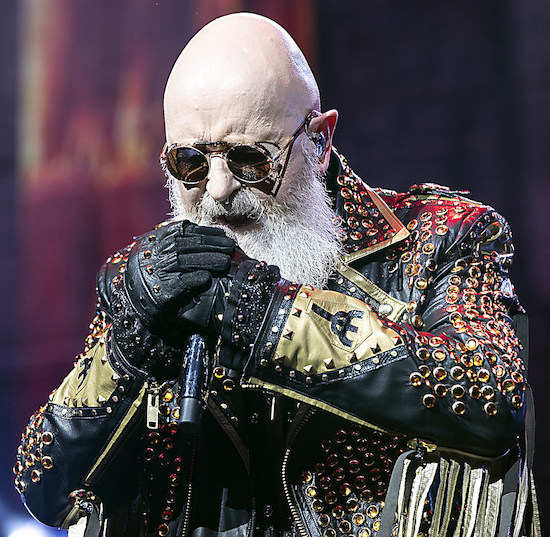 The Metal Godm Rob Halford, aka Judas Priest's iconic frontman, recently spoke with Lauren "Lern" Elwell of radio station KSHE, about the band's recent induction into the Rock N' Roll Hall of Fame.
When asked what it was like performing with former members K.K. Downing, and Les Binks, at the induction ceremony on November 5, he said (via blabbermouth.net), "It was good…I've still yet to watch footage of that. All I remember is my brief interactions with K.K., because I'm always running around the stage like a mad drag queen. My interactions with Ken and with Les, it was great. It felt wonderful to have that moment together after such a long time. And that just shows you the power, the weight, the vibe that the Rock Hall suggests you try to attempt. Try and recapture something of the essence that it really part of why you're here, why you're being inducted. I was just so happy that Ken and Les showed up, because they needed to be there. It was entirely their choice, but I said it makes absolute sense if you're in the room and we're playing together. And we did, and it was magical."
In his acceptance speech, Halford told the crowd, "I'm the gay guy in the band. We call ourselves the heavy metal community which is all-inclusive, no matter what your sexual identity is, what you look like, or what you believe in or don't believe in. Everybody's welcome."
He explained, "I still haven't seen what I've said, but I walked up to the podium and I said, 'Everybody, do your bit first,' because I'm notorious for flapping my lips for extraordinary periods of time…'So, everybody, do your bit, and whatever time we've got left, I'll go up and say 'thank you." So everybody spoke, and then it was me. And I walked up to the mic, and the first thing that came out of my mouth, I think, was, 'Hi, everybody, I'm the gay guy in the group.' I don't know why I said that; it wasn't planned. It was just in my mind. But what we saw was this beautiful reaction from everybody in the room, and that just instantly threw me into this acceptance thing. All these people, they're not all metalheads, but what I've just said, as a gay guy in metal, and the way it was received, shows you the inclusiveness of what we are in heavy metal, in our heavy metal community. So then I said this, and I said that and something else, and then I just stopped speaking. And that was that."
"But, yes, it was a beautiful night," he added. "It was so great. Everybody was so kind and gracious. It was something that'll live with me forever."
"But, yes, it was a beautiful night," Halford added. "It was so great. Everybody was so kind and gracious. It was something that'll live with me forever."
The 2022 Rock Hall induction ceremony will air on November 19th on HBO and stream on HBO Max.