REX BROWN TO RELEASE OFFICIAL MEMOIR ON MARCH 12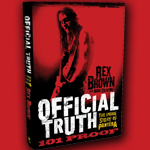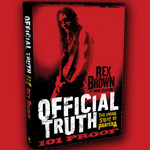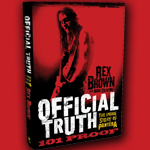 On March 12, 2013 Da Capo Press will release OFFICIAL TRUTH 101 PROOF – THE INSIDE STORY OF PANTERA, written by Pantera bassist Rex Brown, along with Mark Eglington. Rex, who now plays along side Vinny Appice in Kill Devil Hill, joined Pantera in 1982 at the age of 17, after meeting Dimebag Darrell while both attended high school together.
The book offers shocking insight into one of the most influential and enduringly popular bands in heavy metal history. Rex's memoir is the definitive account of life inside Pantera, which succeeded against all odds and released a series of fiercely uncompromising platinum albums, including #1 albums Vulgar Display of Power and Far Beyond Driven, but ultimately ended in tragedy when iconic lead guitarist Darrell "Dimebag" Abbot was murdered on stage by a deranged fan.
According to Brown, "This is what went down, from my point of view. If you read it, everything should be clear, at least from where I was sittin'!" He continues, "I've simply tried to shed some perspective and insight onto my life so far, and the many beautiful people that have surrounded it. With all the trials and tribulations, sacrifices and tragedy, I'm very grateful for even having a chance to put a smile on the fan's faces. That's what it all boils down to after all."
OFFICIAL TRUTH 101 PROOF – THE INSIDE STORY OF PANTERA will be officially released on March 12, but is available for pre-order NOW at Amazon! CLICK HERE TO PRE-ORDER YOUR COPY!