RAVEN RELEASES VIDEO FOR TITLE TRACK, "ALL HELL'S BREAKING LOOSE," OUT JUNE 30TH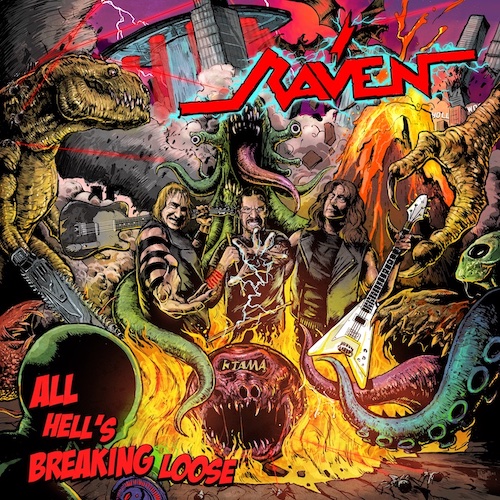 New Wave of British Heavy Metal stalwarts Raven unleash the ear-splitting title track All Hell's Breaking Loose taken from the upcoming album, out this Friday, June 30th via Silver Lining Music.
 
The video features co-founding bassist and vocalist John Gallagher restrained in a straitjacket with his mouth gaffer-taped shut, followed by scenes of explosions and destruction. Musically, All Hell's Breaking Loose twists and turns with accents and flavors buried inside the chaos, perfectly capturing the sheer desperation felt by us all especially whilst in lockdown, during the global COVID-19 pandemic.
 
"Lyrically the song is about the constrictions of being locked down during the pandemic and the desire and need to 'break free' from it all or risking going insane…" explains co-founding member and guitarist Mark Gallagher. "It's about taking control of your freedom!" Mark exclaims.
 
"'All Hell's Breaking Loose is a kick-ass song starting with Mark laughing his head off, which we took from another part of the recording session and glued on to the intro 'cause it just sounded killer crazy!" enthuses John. "It then gets into this straight, "real" Raven riff… the part before the chorus is super heavy… 100% in yer face kill your neighbors heavy metal!!" Watch the video, for the song, below.
Set for release via Silver Lining Music this Friday June 30th, RAVEN's new album, All Hell's Breaking Loose, demands that you prepare yourself for a metal rampage the likes of which you haven't enjoyed in many a year!
 
The Newcastle pioneers, formed by the Gallagher brothers (bassist/vocalist John and guitarist Mark) and rounded out by drummer extraordinaire Mike Heller have emerged from Heller's own Heaven And Heller Studios in Los Angeles with 10 crisp, visceral metal classics, each fused with riffs, twists, turns, chaos and more hooks than all the Hellraiser movies combined (think hyperbole, 'turn-it-UP' and find out for yourself)!
 
'Go For The Gold' is an amalgamation of riffs and furious, percussive madness, yet behind it all a melodic journey that makes it multi-dimensional skull-crushing. Meanwhile 'Surf The Tsunami' sees Heller gatecrash your eardrums with a furious flurry of his own, before some supreme twister riffs bring on the full metal chaos; 'Turn Of The Screw' bounces on the upbeats before smashing you with a thunderous chorus; 'The Far Side' has as classic a metal riff as you'll hear in 2023; 'Desperate Measures' is pure '81-saturated tales of hardship and despair, if you ever wondered what RAVEN at the Marquee were like on a sweaty metal night in '83; 'Edge of A Nightmare' is your portal to paradise, thundering as hard as the opener 'Medieval'.
 
Watch/Listen to the recently released Go For The Gold, here, and Surf The Tsunami, below.
All Hell's Breaking Loose is out this Friday June 30th on 12" Black Vinyl, 12" Limited Edition Green Vinyl, CD Digipak, Tape Cassette, Digital Formats and special D2C bundles. Pre-order at this location
All Hell's Breaking Loose track listing:

1. Medieval
2. Surf The Tsunami
3. Turn Of The Screw
4. All Hell's Breaking Loose
5. The Far Side
6. Desperate Measures
7. Victory's Call
8. Edge Of A Nightmare
9. Invasion
10. Go For The Gold
Raven are:
John Gallagher: Lead Vocals, Bass, 12 String Bass
Mrak Gallagher: Guitar, Vocals
Mike Heller: Drums
What Raven have delivered with All Hell's Breaking Loose is permission for everyone to remember exactly what it's like to lose yourself in the healing aural waters of supreme heavy metal music, resplendent in sweat-soaked denim and leather.
Follow Raven:  ravenlunatics.com, facebook, twitter, instagram, spotify and youtube.