RANDY RHOADS' STOLEN GUITAR, AND PROTOTYPE AMP, RETURNED TO HIS FAMILY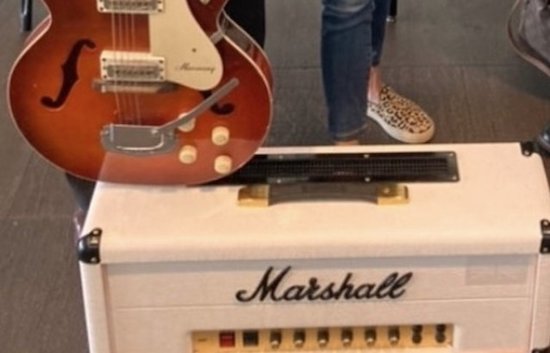 As reported on December 1st, 2019, music gear that once belonged to legendary guitarist Randy Rhoads has been stolen from North Hollywood California's Musonia School Of Music, which was founded more than 70 years ago by the guitarist's mother, Delores Rhoads.
On December 9th, some of the memorabilia was recovered.
Local resident Bobbi Fredriksz says she spotted a guitar and photos in a dumpster as she was walking her dog early Sunday morning. She initially didn't think anything of it until she got home and saw a report about the theft on ABC7.
"As I was laying in bed, not feeling well, when it came on I was like wait a minute, oh my God," Fredriksz told ABC7. "I ran all the way back over here it was still here. Somebody else started to see it and called police."
Ozzy Osbourne had also announced that he was offering a 25k reward for any information leading to the whereabouts of the unrecovered stolen items and/or their return.
Now, we are happy to report that Rhoad's missing guitar, his first electric a 1963 Harmony Rocket, and a prototype of his rare signature Marshall Amplifiers amp head, have been returned to his family.
On May 19th, Randy's sister, Kathy Rhoads D'Argenzio, took to her Instagram to share the good news, she wrote:
She wrote, "YES!!!! It's OFFICIAL!!! …. And You heard it CORRECT!!!!! It's BACK. It's been a CRAZY 'Randy week' for sure…..but this is Beyond Awesome as well!!!!!!! I am so thankful for this …. No words.
"I CANNOT answer ANY Questions, as this is an 'ON GOING INVESTIGATION'. So Don't ask!!!!
"Wow!! Absolutely AMAZING!!!!!
"But trust me…I will 'follow up' when I can!!
"Thanks everyone for all your concerns and love.
"The Rhoads Family
"Still missing items ……
"Thank you to the North Hollywood Police Department!!!! (missing since November 2019)".