RAINBOW TO CELEBRATE ITS FIRST DECADE BY RELEASING "THE SINGLES BOX SET 1975-1986" IN FEBRUARY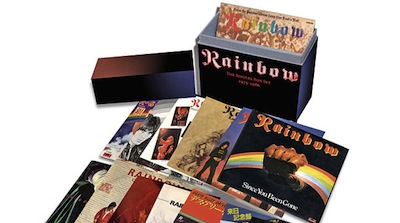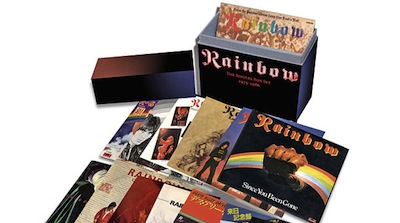 The first decade of Ritchie Blackmore's Rainbow will be celebrated with a limited-edition 19-disc box set early next year.
It contains reproductions of the original vinyl singles' artwork and comes complete with a 32-page book detailing the band's release history from 1975 until 1986. Sleeve notes are written by Andy Francis.
Label Commercial Marketing states, "As one of the cornerstones of British Rock, Rainbow, led by the never-predictable but ever-astonishing guitarist Ritchie Blackmore, became synonymous with some of the most well regarded and popular charting Rock songs of the seventies and eighties. Passing through the band were some of the best the genre had to offer – vocalists Ronnie James Dio and Graham Bonnet, bass player and producer Roger Glover and drummer Cozy Powell. Each brought their individual talents to record some of rock's best-loved timeless singles."
Rainbow: The Singles Box Set 1975-1986 is released on February 3rd.
Tracklist
CD 1:
1. Man On The Silver Mountain (7" Edit)
2. Snake Charmer
CD 2:
1. Still I'm Sad
2. Temple Of The King
CD 3:
1. Man On The Silver Mountain
2. Snake Charmer
3. If You Don't Like Rock 'N' Roll
4. Sixteenth Century Greensleeves
CD 4:
1. Starstruck
2. Run With The Wolf
CD 5:
1. Kill The King (Live / Edit – On Stage)
2. Man On The Silver Mountain (Live – On Stage)
3. Mistreated (Live / 7" Edit – On Stage)
CD 6:
1. Long Live Rock 'N' Roll
2. Sensitive to Light
CD 7
1. LA Connection (7" Edit)
2. Lady of the Lake
CD 8:
1. Since You Been Gone
2. Bad Girl
CD 9:
1. Since You Been Gone
2. No Time To Lose
CD 10:
1. All Night Long
2. Weiss Heim
CD 11:
1. I Surrender
2. Vielleicht Das Nächster Zeit (Maybe Next Time)
CD 12:
1. Difficult To Cure
2. Can't Happen Here (7" Edit)
3. Jealous Lover
CD 13:
1. Magic
2. Freedom Fighter
CD 14:
1. Can't Happen Here (7" Edit)
2. Jealous Lover
CD 15:
1. Stone Cold
2. Rock Fever
CD 16:
1. Death Alley Driver
2. Tite Squeeze
CD 17:
1. Street Of Dreams
2. Anybody There
3. Power (Live at the Convention Center, San Antonio)
CD 18:
1. Can't Let You Go (7" Edit)
2. All Night Long (Live at David's Hall, Cardiff)
3. Stranded (Live at David's Hall, Cardiff)
CD 19:
1. Bad Girl
2. Spotlight Kid (Live at Budokan, Tokyo)
3. Man On The Silver Mountain (Live)
additional source: classicrockmagazine.com