QUEENSRYCHE SIGN WITH CENTURY MEDIA RECORDS. NEW ALBUM OUT JUNE 11.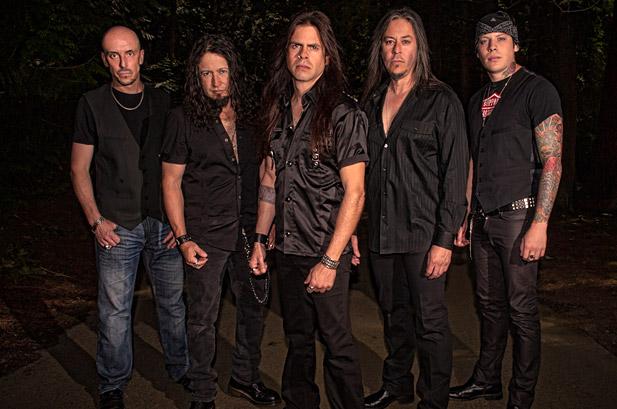 Band signs with Century Media Records, becoming de facto labelmates with former singer Geoff Tate
Billboard has exclusively learned that rock band Queensryche has signed with metal label Century Media Records for a worldwide record deal. The group will release its next album — its first with singer Todd La Torre — on June 11.
Drummer Scott Rockenfield says, "Century Media has been extremely enthusiastic ever since they came into the equation with us, and for what it's worth it's hard to find enthusiasm like that. After 35 years I guess I'm gracious and honored that we have people that are that enthusiastic about the band, so we're really happy about moving forward with them."
Century Media president of North American Don Robertson wrote in an email to Billboard about the label's interest in the band, "Many of us at the label have been longtime fans of Queensryche as a band. When we heard they were recording a new record, we were all definitely interested."
The deal resulted from Queensryche's team putting out feelers for interest in the album. Conversations directly with the group began when the band met Robertson at the Anaheim, Calif., NAMM convention in January. Rockenfield and Robertson declined to reveal details about the deal, other than Robertson stating in his email, "We have the option to be in business with Queensryche for a long time."
Queensryche announced last summer that it was recording that album with La Torre, after former singer Geoff Tate was fired from the band in June. But the group's new contract is newsworthy on several counts. Since June, Queensryche has been in engaged in a lawsuit with Tate and his wife, former Queensryche manager Susan Tate, regarding the legality of his firing, his severance package and which party owns the rights to the name. The paperwork Tate submitted with his lawsuit included a declaration from Century Media A&R/product manager/InsideOut Music label manager Paul Gargano. Gargano's declaration supported a preliminary injunction request (sought by the Tates) that would have prevented Queensryche and Tate from working under that moniker until the matter is settled in Seattle's King County Superior Court. (Superior Court Judge Carol A. Schapira denied that request in July.)
Further, in the wake of his firing, Tate released his second solo album, Kings & Thieves, on InsideOut in November as part of a worldwide multi-album deal. InsideOut, which features progressive and theatrical metal, is a Century Media-associated label. That makes Tate and his former bandmates—Rockenfield, guitarists Michael Wilton and Parker Lundgren, and bassist Eddie Jackson—semi-distant labelmates.
Topping all that off: Tate announced on Jan. 25 that he signed a contract with Cleopatra Records, known for goth albums and catalog reissues, to release an album with his own version of Queensryche later this year. For now, Tate and the original Queensryche are legally permitted to enter business agreements under that name. This resulted from a failed attempt by Queensryche to stop Tate from using the name until the suit was settled; Schapira ruled in October that both parties could continue working as Queensryche.
Billboard sent a request for comment to Tate about Queensryche signing with Century Media, but did not receive one by press time.
Gargano had summarized his declaration with, "In my opinion, based on my experience in the industry, the best course of action to take at this point would be to stop any tours or recordings by anyone in the name of Queensryche until the litigation is resolved." One reason he listed was because he had seen how bands' brand value were eroded "after those bands attempt[ed] to replace their lead singer, [especially] when they do so in an acrimonious manner." In July, Gargano further commented on his position in an email to Billboard, writing in part that "the intention of the injunction was to protect the future value of Queensryche by eliminating the possibility of there being multiple versions of Queensryche. Not only did the judge deny the injunction—she also urged and encouraged that there should be two Queensryche bands moving forward. Which is precisely what the injunction intended to avoid."
When asked if there was any concern about the potential for conflict with Tate or Queensryche in relationship to Gargano, Robertson wrote, "Our employees' personal opinions in no way reflect the opinions of Century Media as a company. We expect there to be no conflict with any of our artists."
Rockenfield says he isn't concerned either. "To be honest, we don't really care. The label wouldn't be signing us if they weren't interested in what we're doing as Queensryche," he says. "They know exactly what's going on in the lawsuit. They've read everything, they did their own research because they're not going to throw money and time and support into something if they didn't know what they were doing. Don and Steve[Joh, head of Century Media A&R] are hugely supportive of what we're doing, and that's all we need."
Robertson also stated that Joh, not Gargano, will oversee Queenryche's A&R/product manager responsibilities.
In September Tate rolled out his own Queensryche lineup, followed by a November announcement that the 25th anniversary of the band's 1988 breakthrough album "Operation: Mindcrime" would be celebrated with a tour. Two of those members (guitarist Glen Drover and drummer Bobby Blotzer) have since left the band. The lineup now features brothers Rudy and Robert Sarzo on bass and drums, respectively; drummer Simon Wright; guitarist Kelly Gray; and keyboardist Randy Gane. Multiple guest musicians are also performing on Tate's upcoming Queensryche record, such as Brad Gillis, K.K. Downing and Ty Tabor.
As far as the original Queensryche is concerned, it's focusing on its Return to History tour, which begins March 5, and completing the album. "Recording is finished. It's that final stage where we mix and we master . . . It's been quite crazy so we're winding down so we can focus on the final section of the record, which is the artwork and the name and everything else," Rockenfield says. The band has reteamed with producer James "Jimbo" Barton, who also guided Queensryche in the studio for its albums Operation: Mindcrime, Empire and Promised Land, for its latest project.
What will happen when the album hits shelves — and the lawsuit is settled — remains to be seen. The trial date is set for Nov. 18. Asked how it would affect the terms of their deal if its version of Queensryche loses the lawsuit, Robertson wrote, "I guess we will cross that bridge when we come to it."
 Source:  Billboard.com