PHOTOGRAPHER MARK WEISS DISCUSSES PHOTOGRAPHING GUNS N' ROSES BEFORE THEY WERE FAMOUS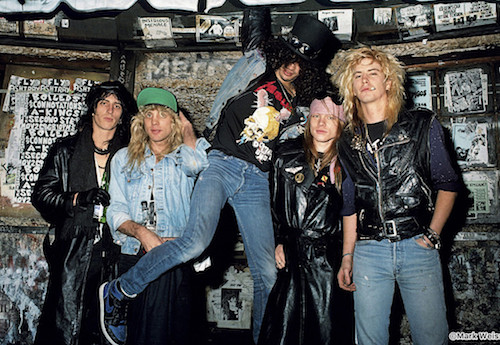 Greg Prato of Songfacts spoke with photographer Mark "Weissguy" Weiss about photographing Guns N' Roses before their huge commercial success. Potions of article appear below.
Weiss shot the band for Hit Parader magazine, and stated, "[At the time] No one outside of LA had heard of them. They didn't even have an album out, but there was a big buzz. They were rehearsing, so we set up a quick little photo shoot, and I remember they didn't want to do a photo shoot with me or anyone else because they had their own photographer. They had an attitude right out of the gate…."
…"I remember Axl with the glammed-up hair and he had this pair of pants on that said, 'Glam Sucks,'" Weiss [continued]. "So, it's kind of a contradiction because he had make-up on and a totally glam look going."
Weiss concludes, ""The last time I shot them with that original lineup," says Weiss, "they were at the Sunset Grill in LA. After the shoot, Axl asked if I wanted to make a call on his cell phone. It was the first time I used one."
Mark Weiss' book The Decade That Rocked: The Photography of Mark "Weissguy" Weiss is available at thedecadethatrocked.com.
Photo credit: Mark Weiss