OZZY OSBOURNE WRITES FORWARD FOR ROSS HALFIN'S RANDY RHOADS' PHOTO BOOK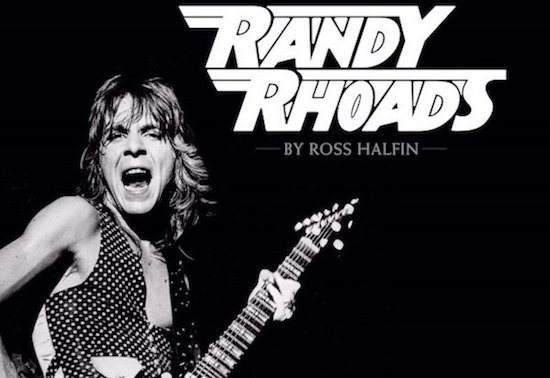 As previously reported, rock photographer Ross Halfin has teamed up with Rufus Publications for the publication of Randy Rhoads By Ross Halfin, a celebration of one of the most influential hard rock/heavy metal guitarists of all time.
Ozzy Osbourne pays tribute to the iconic guitarist by writing the book's introduction.
"It's weird, I only knew Randy for a couple of years, but it felt much longer. I felt like I knew him for my whole life," says Osbourne. "I still think about him a lot, and I do wonder what he would be doing now. I owe him a huge amount – he was the beginning of me. He wasn't just my guitarist, he was my friend."
"He was a monster of a player. What an incredible find he was. Randy was a great player and a good guy. He knew what he wanted…and wouldn't stop 'til he got it."
Former Quiet Riot guitarist Rhoads joined Ozzy's solo band in 1979, aged 22, and co-wrote every song on 1980's Blizzard Of Ozz and 1981's Diary Of A Madman, the two albums which set up Osbourne's post-Sabbath career. On March 19th, 1982, while touring Ozzy's second album, Rhoads was tragically killed in a freak accident, when a light aircraft in which he was a passenger collided with the band's tour bus.
The book will be available in three editions: the standard book, which features the volume and a cloth slim case, as well a Deluxe Signed Leather Edition and Super Deluxe Edition. The latter two editions are autographed by Osbourne and Halfin. The book is available now for pre-order.
Rufus Publications say, "Randy Rhoads by Ross Halfin celebrates his time with Randy and Ozzy Osbourne both onstage and off with hundreds of beautiful, largely unseen images from those early years."
In other Rhoads news, the guitarist will be inducted into the Rock N' Roll Hall of Fame 2021 class as a Music Excellence honoree. Osbourne told Sal Cirrincione for Premiere Radio Networks, "I'm so happy that Randy's genius, which we all saw from the beginning, is finally being recognized and that he is getting his due. I only wish he was here in person to get this award and that we could all celebrate together. It's really great that Randy's family, friends and fans get to see him honored this way."