OZZY OSBOURNE SAYS HE IN "UNBELIEVABLE PAIN 24/7"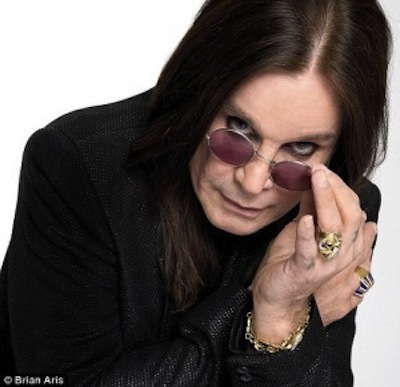 Simon Cosyns of The Sun reports:
"I'm in unbelievable pain 24/7," admits Ozzy Osbourne…
In his first major interview since confirming his battle with Parkinson's disease, the lovable 71-year-old hellraiser says he is struggling to recover from a fall early last year.
"I remember it like it was yesterday. I was lying there as clearly and as calmly as anything, thinking, 'Well Ozzy, you've f***ing done it now'… I have to be helped to change, to have a bath . . . it's just f***ing awkward, you know?"
..".If I had a choice between the Parkinson's and the f***ing neck, he continues. "I'd go for the Parkinson's. I've been laid up for a year now."
…[Now] this week came the news that he's had to cancel the US leg of his world tour, due to start in Atlanta at the end of May.
He says: "I had to pull out because I might only be able to do a couple of shows. I'll go out there when I'm ready and I'm not ready yet. The recovery has been so goddam slow. I've never been this laid up in my life and, believe me, I've done some stupid things. I've recovered from alcoholism, drug addiction, all of the above. Then I tripped over, and that's it…"
…[Ozzy also discussed his new album, Ordinary Man, out today (February 21st)] saying, The album has saved my life. Before I started work, I was just lying there thinking, 'Poor old me'. The album got me out of bed. Some days I'd do an hour or two, other days four or five. It was the best medicine I could have because it stopped me thinking about how I might end up a cripple…When I first found out I had Parkinson's I thought, 'F***!', but then I thought, 'It could be worse, I could be dead.' The fact is . . . what am I going to do about it? With the time I've got left, I don't want to sit around being miserable. Everybody would like to be me for a weekend. I've had a great life."
Of his recent diagnosis, Ozzy says, "It's like, 'Dun, dun, duuuuun . . . Ozzy's got Parkinson's'. But I actually have a thing called PRKN 2. It's not mainstream Parkinson's like Michael J Fox's, but a milder form, I'm glad to say. It affects regular things — like if you get a cold, it could be the Parkinson's…The problem I'm having right now is with my neck…"
…The legendary rocker has long since turned his back on the fast living of his early years fronting heavy metal pioneers Black Sabbath.
"It's seven years since I had a drink, seven years clean and sober," he says. "Don't smoke tobacco, don't drink, don't do drugs. It's quite boring…The only other thing is masturbation," laughs Ozzy..
"…I just hope my fans won't give up on me. If I cancel again, they might. There's no one who wants to get better faster than me and go out on the road. I've never been at home this long in my life."
Read more at The Sun.
Ozzy is currently celebrating the release of his new album, Ordinary Man, with a worldwide tattoo event and in store appearance, this evening, at Amoeba Records in Hollywood, CA  at 5:00 PM (PST).