OZZY OSBOURNE PARTNERS WITH OMAZE TO OFFER FANS AN EPIC CONCERT EXPERIENCE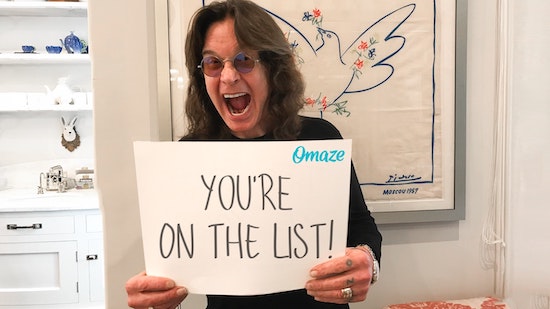 Ozzy Osbourne announced a partnership with online fundraising platform Omaze offering one lucky fan a once-in-a-lifetime experience of being in his entourage for the day, complete with the never-before-offered opportunity to watch his Las Vegas show from the side of the stage. The campaign will support Love Hope Strength as they work to save lives one concert at a time.
A $10 donation through omaze.com/experiences/Ozzy-Osbourne will enter fans the chance to win and support the lifesaving work of Love Hope Strength. The grand prize for one randomly selected winner and their guest includes:
*Flights to Vegas to see Ozzy's show No More Tours 2 on October 13th, and accommodations in a 4-star hotel.
*Meet Ozzy, be on his personal guest list and be a part of his entourage for the day.
*Attend soundcheck and the pre-show party
*The option to watch the entire set from the side stage-a never before offered opportunity!
*A $500 gambling chip to use in Las Vegas.
Fans can enter for their chance to win this unforgettable experience at omaze.com/experiences/Ozzy-Osbourne through September 30th at 11:59 PM (PT).
About Omaze:
Omaze is an online fundraising platform that makes giving fun, and easy, by offering once-in-a-lifetime experiences and exclusive merchandise in support of critical causes. Our campaigns connect influencers, nonprofits and donors to create lasting impact, and have raised funds and awareness for over 350 charities with donations from over 180 countries. For more information, please visit www.omaze.com
About LOVE HOPE STRENGTH:
Love Hope Strength (LHS) is saving lives one concert at a time. Since 2008 they've been hosting marrow donor drives at concerts and festivals across the globe via their Get on the List campaign, which encourages people to sign up for the International Bone Marrow Registry with a simple cheek swab. This is so incredibly important-every three minutes, someone in the US is diagnosed with a blood cancer like leukemia or lymphoma and many can be saved with a bone marrow transplant. Sadly, 6 out of 10 patients will never receive the lifesaving transplant they need. LHS is changing that. And with your help, they can increase those odds and save more lives.