OZZFEST 2018 ANNOUNCES SPECIAL ONE NIGHT NEW YEAR'S EVE LOS ANGELES SHOW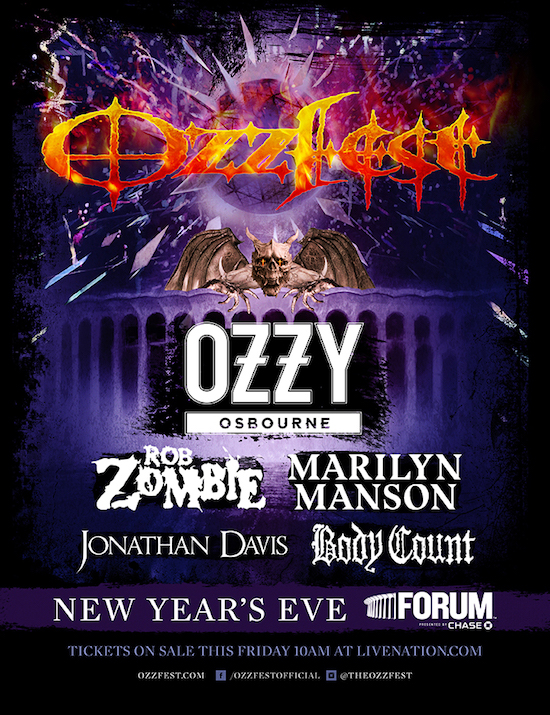 For the first time since its 1996 debut, Ozzfest–the annual musical event that celebrates hard rock and heavy metal–has created a special one-night-only New Year's Eve celebration to ring in 2019. Set for December 31st at The Forum in Los Angeles, the event features headliner Ozzy Osbourne and a line-up of some of the greatest names in rock (and Ozzfest alumni): Rob Zombie, Marilyn Manson, and Jonathan Davis (of Korn), along with the Ozzfest debut of Body Count featuring Ice-T. The New Year's Eve party will include an outdoor stage, along with other holiday festivities, details of which will be announced in the coming weeks. The evening will conclude with Osbourne onstage counting down to the new year.
"I asked Sharon what we're doing this New Year's Eve and she said 'We're doing f–k all." says Ozzy. "So I thought 'we didn't do Ozzfest in 2018, so let's do a New Year's Eve Ozzfest.'"
"What better way to celebrate New Year's Eve than with some of the greatest performers in this genre and our longtime friends Rob Zombie, Marilyn Manson, Jonathan Davis and Ice T," says Sharon Osbourne.
Tickets for the Live Nation-produced Ozzfest 2018 go on sale October 26th at 10:00 AM (PT) here. Ticket prices range from $49.50 for general admission to $179.50 for a reserved seat. VIP packages are also available, details of which can be found at ozzfest.com..
The Ozzfest main stage line-up is as follows:
Ozzy Osbourne
Rob Zombie
Marilyn Manson
Jonathan Davis (of Korn)
Body Count featuring Ice-T
Follow Ozzfest online at: