ORIGINAL GUNS N' ROSES DRUMMER STEVEN ADLER SAYS THAT DUFF MCKAGAN "DOESN'T THINK I'M COOL AND THAT I AM NOT THAT GREAT A DRUMMER." ADDS SLASH "DOESN'T BELIEVE I HAVE 21 MONTHS SOBER"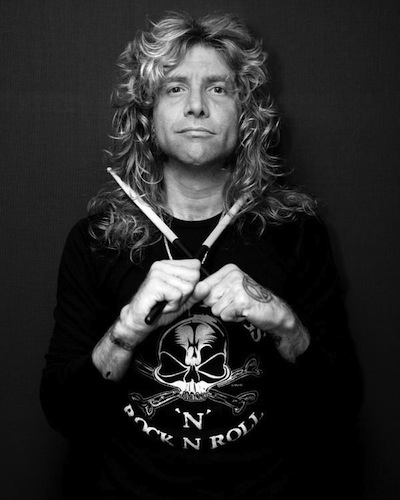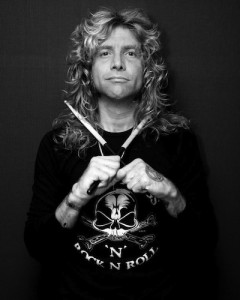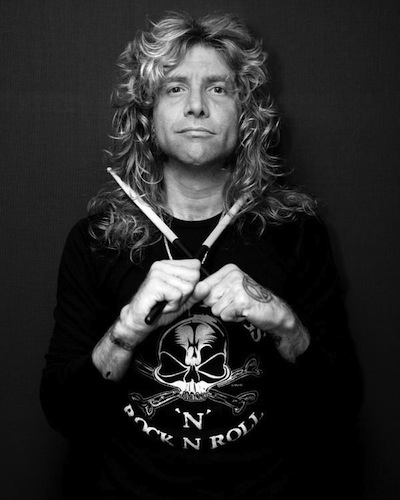 Original Guns N' Roses drummer Steven Adler was Eddie's guest on the September 28th broadcast of Sirius/XM show, Eddie Trunk Live. Excerpts from the interview appear below, transcription courtesy of Blabbermouth.net.
When asked if he knows anything about a rumored reunion of Guns N' Roses' Appetite For Destruction lineup, Adler told Eddie Trunk, "Nothing. Even if it was happening, I don't think Slash would tell me, because he knows how excited I get and that I would probably say something before I should. I would be the last one to know."
He later continued, "I love those guys, and I always will, but Duff, he doesn't think I'm cool..He doesn't think I'm a cool guy. This is what people tell me. And he doesn't think I'm cool and that I'm not that great of a drummer. And Slash, he doesn't believe that I have 21 months and 21 days sober. He doesn't believe it. I don't know why, but they forget that at one time in their life, they were doing drugs and drinking and they were f–king up. They forget that they were like that too. Duff has got 20 years sober or more, Slash has got, like, 11 or 12 years sober, and I've got a year, nine months and 21 days. So everybody gets it at a different time. I'm just thankful I got it."
"…."They don't think I'm cool and they don't think I can play drums that great and they don't think I'm sober. Duff, he has a right, in a way, but, like I said, he forgets where he came from too. But we did do some shows [together] in Japan [in 2013], and Duff invited [Steven's current band] Adler to come down, and I was still drinking then. And the second I got to the airport, I made a beeline for the bar, and I just started doing shots of Jäger. And the whole trip I was sick and I was just a mess. And, you know, Duff's sober and he's very judgmental and forgetful of where he came from. And he was just so bummed and pissed at me. I mean, the playing part, the shows when we actually were performing, that went all right, but everything else… So I kind of ruined it and gave him the excuse to be able to say, 'Well, he's not cool and he's not that good.' But I stopped doing that. They stopped doing that. Just because they stopped doing it before I did doesn't make them any better. We're all people who have addiction problems. I was just able to get a grip on it later on in life than they did."
Adler stated that he is still in touch with Slash but that it is difficult to get him to meet up. "I'm always trying to get [Slash] to go to Crossroads, this vegan restaurant. I [tell him], 'Get your girlfriend and come meet me and my wife over… And John 5. I say, meet me and John 5 and Rita over at Crossroads for brunch or dinner.' [And he writes back] 'Ehh, I can't. I'm working.' I'm going, 'You've gotta be home way more than that. Just come meet with me. Let's go have a cup of coffee.'
Adler also expressed frustration over the fact that so many world-famous musicians, including Guns N' Roses, cannot seem to overcome personal differences and reunite for the sake of their fans.
"I don't understand what the problem is," he said. "We're just rock bands. We all started practicing in our garage or our bedroom. We met each other, and we started playing in our garage, then we worked on songs. This is what we wanted to do. Our dreams came true. I don't know why it's so difficult for people that have been successful and still can moderately successful…Of course, nobody's gonna be like they were in the '80s; that was our generation. It's a new generation now of music and people and kids. But there are bands like Bon Jovi and Metallica and the Guns N' Roses reunion; [if that were to happen] that would be huge."
Adler added: "I don't get it. We just play music. We're living our dream. Why does everybody have to be such a dick and so fucking crazy? It's, like, hey, we play music. When we're together, we play it really great. Let's just do it. What's the problem?"
additional source: blabbermouth.net