ORIGINAL GUNS N' ROSES BASSIST DUFF MCKAGAN TO FILL IN FOR TOMMY STINSON ON THE BAND'S REMAINING SOUTH AMERICAN TOUR DATES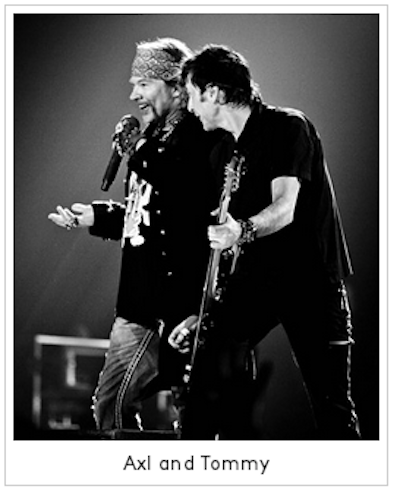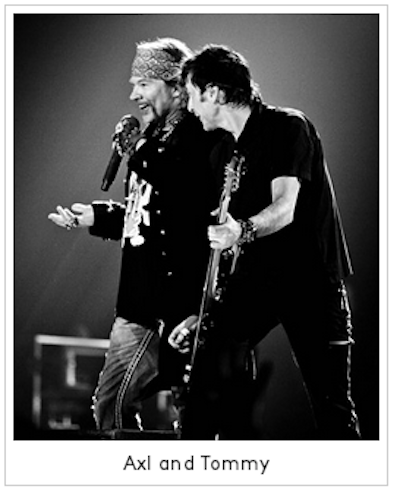 Gary Graff of Billboard reports:
Re-joining Guns N' Roses for five shows in South America is just Duff McKagan's way of being "a good buddy" according to current GNR bassist Tommy Stinson.
After McKagan tweeted a hint to that effect on Monday, the GNR camp confirmed that the group's founding bassist will fill in for Stinson, who was already locked into Replacements reunion dates, starting April 6th in Buenos Aires, Argentina, and for the balance of the South American tour, including shows in Asuncion, Paraguay on April 9th, La Paz, Bolivia on April 12th, Recife, Brazil on April 15th and Fortaleza, Brazil on April 17th. GNR opens the tour on Tuesday in Florianapolis, Brazil, and also plays April 3rd in Porto Alegre, Brazil, with Stinson, who will be back in the GNR bass saddle on May 13th in Bethlehem, Pa.
"I had those Replacement shows come up the same time the (South American) tour came up, and it got to be a scheduling issue right out of the gate," Stinson tells Billboard. "I didn't want to fuck anyone up in Guns by saying, 'Hey, I can't do this tour' or anything like that. Luckily someone was able to reach out to Duff and he was amenable to the idea and was into doing it. It's Duff being the kind of good sport he is, trying to help Axl (Rose) out. So I'm like, 'Thanks dude, for covering my ass on this one.' I think people are gonna be really stoked about it. It's gonna be fun for everyone."
For his part, McKagan relayed through GNR's publicist that, "It's pretty great to play these songs again, and looking forward to playing some gigs with my pal again. South America is always a radical place for rock n roll…and I'm honored to be doing this thing, in that place."
McKagan, who was part of GNR from 1985-1993, has always been the member of the original lineup who's kept closest ties to Rose's current incarnation of the band. He joined the group for three songs on October 14th, 2010 at London's O2 Arena, and twice again that December when his band Loaded opened two GNR shows in North America. And, of course, McKagan played with other former GNR members during the group's 2012 Rock and Roll Hall of Fame induction, which Rose (and guitarist Izzy Stradlin) skipped.
"I don't know that Duff and Axl ever even had bad blood," Stinson says. "I don't really know the whole story. But he came up and played with us a couple years back, and they got along great. Whatever their history is, they're certainly fine now — I means, as fine as you can be after knowing someone for 30-plus years."
Stinson says McKagan joined GNR for rehearsals in Los Angeles last month and will likely run through the set again before the Buenos Aires show, but Stinson notes that, "He's a fucking great bass player. It's gonna be a breeze. The only bummer is I don't get to see one of the shows he plays, especially after playing his fucking parts for 17 years. It would be interesting to see how he plays them. There's a couple things I could use some pointers on."
GNR will also be playing at the Rock on the Range festival on May 13th in Columbus, Ohio, then they start a nine-show residency on May 21st at the The Joint in the Hard Rock Hotel Casino in Las Vegas. "There's rumblings of other things to come," Stinson says, "but I'm not sure what those would be at this point." Would one of those be some new GNR music, perhaps a follow-up to 2008's Chinese Democracy? "I hope we would fucking throw ourselves in the studio and make another record," the bassist says. "A bunch of us have been writing stuff, so hopefully we'll get something going."
source: billboard.com