ON THE 40TH ANNIVERSARY OF QUIET RIOT'S "METAL HEALTH" ALBUM, JOIN A VIRTUAL BOOK EVENT FOR "KEEP ON ROLLIN' MY FAN CLUB YEARS WITH KEVIN DUBROW AND QUIET RIOT" FEATURING RUDY SARZO, DEE SNIDER, STEPHEN PEARCY AND OTHERS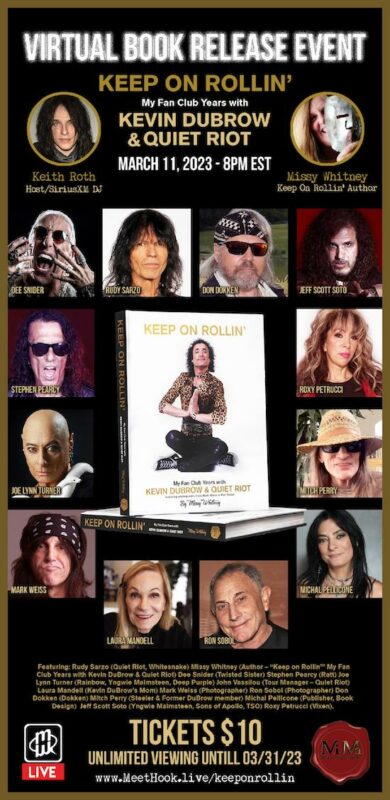 Join us as we celebrate the Virtual Book Release of Keep on Rollin' My Fan Club Years with Kevin DuBrow and Quiet Riot. Written by Missy Whitney and published by MiMa Publishing. Featuring photographs by Mark Weiss and Ron Sobol. Foreword by Rudy Sarzo and Afterword by Kevin's mom, Laura Mandell. Tickets are $10 and can be purchased here, access to the streaming is good until March 31st 2023.
As a bonus for those tuning into the event, hear the song demo, Keep on Rollin', written by Kevin DuBrow and recorded on a 1980 demo tape that Kevin gave to Missy as a Christmas gift. With a title change and the lyrics rewritten, it later became widely known as Party All Night and was released on Quiet Riot's Condition Critical album in 1984.
Watch SiriusXM DJ Keith Roth as he reminisces with Quiet Riot's Rudy Sarzo, Stephen Pearcy of Ratt, Dee Snider of Twisted Sister, Don Dokken and others sharing their memories of Kevin DuBrow and Quiet Riot. 
Hosted by SiriusXM DJ Keith Roth; featuring Rudy Sarzo (Quiet Riot, Whitesnake), Missy Whitney (Author – Keep on Rollin' My Fan Club Years with Kevin DuBrow & Quiet Riot), Dee Snider (Twisted Sister), Stephen Pearcy (Ratt), Joe Lynn Turner (Rainbow, Yngwie Malmsteen, Deep Purple), John Vassilou (Tour Manager – Quiet Riot), Laura Mandell (Kevin DuBrow's Mom), Mark Weiss (Photographer), Ron Sobol (Photographer), Don Dokken (Dokken), Mitch Perry (Steeler & Former DuBrow member), Michal Pellicone (Publisher, Book Design), Jeff Scott Soto (Yngwie Malmsteen, Sons of Apollo, TSO), Roxy Petrucci (Vixen).