MUSICIAN MARK TREMONTI RELEASES DEBUT SONG FROM HIS FIRST-EVER HOLIDAY ALBUM "CHRISTMAS CLASSICS NEW & OLD" AVAILABLE WORLDWIDE ON OCTOBER 27TH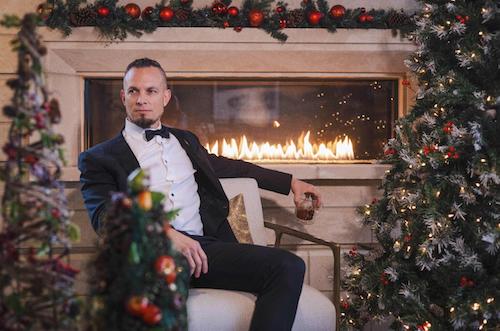 With a little under three months until Christmas Day and the holiday season fast approaching, GRAMMY® Award Winning musician, producer, author as well as founding member of hard rock bands Alter Bridge, Creed and Tremonti, Mark Tremonti is releasing the first song from his upcoming holiday album, Christmas Classics New & Old. The Most Wonderful Time Of The Year is now available via all streaming partners and a holiday themed visualizer can be seen below.
Christmas Classics New & Old is Mark's interpretation of nine holiday classics and one original penned song from the acclaimed songwriter himself. After the success of his interpretation of songs Frank Sinatra made famous on his album Tremonti Sings Sinatra, Mark decided to partner up with the orchestra from that album to work on the holiday album. From the opening horns of The Most Wonderful Time of the Year to the slow fade of the Donny Hathaway classic This Christmas, Mark Tremonti showcases the music that was the bedrock of his childhood holidays. Mark's interpretations of songs like Jingle Bells, The First Noel and Have Yourself a Merry Little Christmas find their place among the many great versions that preceded them. O Holy Night is one of Mark's personal favorites and finds new life in the inspired arrangement by producer Carey Deadman. Mark also took the time to create his own holiday composition called Christmas Morning. Christmas Classics New & Old will sit alongside the most-cherished holiday albums and continues to showcase the musical diversity inside Mark Tremonti. The album is scheduled for release worldwide on October 27th and is now available for pre-order here: tremontichristmas.com.
The track listing for Christmas Classics New & Old is:
1) The Most Wonderful Time of the Year
2) Jingle Bells
3) The Christmas Song
4) Christmas Morning
5) The First Noel
6) Santa Claus Is Comin' to Town
7) Have Yourself a Merry Little Christmas
8) Let It Snow! Let It Snow! Let It Snow!
9) O Holy Night
            10)  This Christmas
Reuniting with members of the orchestra from Tremonti Sings Sinatra and Christmas Classics New & Old, Mark is announcing three new tour dates to go along with his previously announced show in Orlando on Saturday, December 16th. The new dates will take Mark and his orchestra to New Jersey for two shows and Beverly Hills California for one next January. The shows are scheduled for January 5th in Atlantic City, NJ at The Music Box at Borgata January 6th in Red Bank, NJ at the Count Basie Center For The Arts and January 13th in Beverly Hills, CA at the Saban Theater. Tickets for all shows will be available on September 29 and can be found here.