MOTLEY CRUE'S TOMMY LEE DISCUSSES THE BAND'S FAREWELL TOUR, "THE DIRT" AND WORKING WITH SMASHING PUMPKINS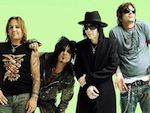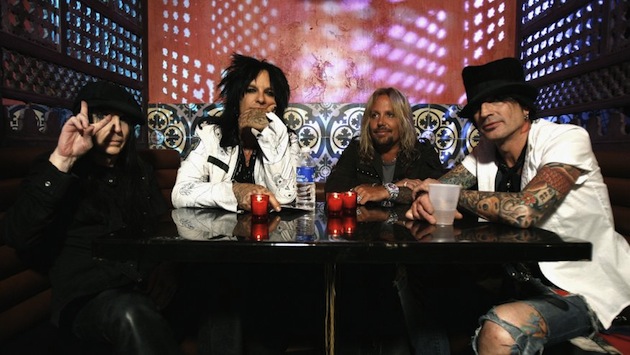 Gary Graff of Billboard reports:
Motley Crue is planning a well-publicized farewell tour starting this summer, but it won't be coming empty handed.
Tommy Lee tells Billboard that he's "just finished the drums" for All Bad Things Must End, a new song the Crue hopes to have out by the time the farewell tour begins July 2nd in Grand Rapids, Michigan, and which will be attached to a new greatest hits album that will accompany the tour. "We're just mixing (the song) and getting it together," Lee reports. "It's pretty heavy, but it's really melodic. It's definitely about this time right now with the band and what the feeling is and kind of all that wrapped into a song. I hate to say it's like a goodbye, but it definitely references our time here."
And it may not be the last thing we hear from the band, according to Lee. While the group is sworn to making this it's actual last tour, he says that "making music is still an open conversation, so who knows. Maybe there's some more music for us down there."
Meanwhile, the quartet is getting its show together for the tour. "There's a whole new production being built that's pretty fucking insane," Lee says. As for the setlist, he adds that they are talking about two-hour sets "so we can play all the hits and then hopefully dig into some deep stuff, since this is the last chance to play them."
The group is also digging into The Dirt, the long awaited film adaptation of its vivid 2001 band biography. Lee says he and bassist Nikki Sixx recently sat down with director Jeff Tremaine for a read-through of the script that he calls "probably the most fucking insanely surrealistic experience I've ever sat through — probably two hours and change of literally watching people act and play through this two-hour plus movie of 30 years of your life. I was just like, 'What the fuck?! That's insane! This movie is insane!' Even just the way the movie starts, you're like, 'How the hell are we gonna rate this thing? Triple R?'"
Lee says casting is slated for late July, most likely with unknown actors playing the band members who will subsequently join the Crue on tour for a bit of boot camp. "I can just imagine some 25-year-old actor getting the part and being sent on the road to hang out and study us," Lee says with a laugh. "Wow, what a trip! They're gonna definitely come back a different animal."
Lee, meanwhile, has tried on a different musical skin lately, playing drums for the next Smashing Pumpkins album. He's recorded demos with Billy Corgan in Los Angeles and expects to be back in the studio during the next few weeks to record the finished songs. "I think he has probably the best record he's ever written," Lee says. "These are like epic, goose-bump songs. It sounds like the first couple of Smashing Pumpkins records. I was fucking blown away."
Read more at Billboard.
source: billboard.com