MOTLEY CRUE'S "GIRLS, GIRLS, GIRLS" CELEBRATES 30TH ANNIVERSARY WITH SPECIAL RELEASES AVAILABLE AUGUST 25TH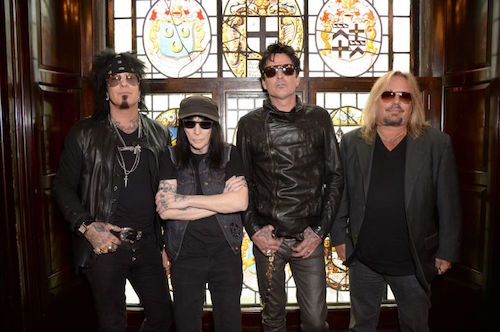 Iconic Los Angeles rock band Motley Crue celebrates the thirtieth anniversary of its fourth studio and four-times-platinum album, Girls, Girls, Girls, with special album reissue bundles that will be available on August 25th through Pledge Music. Fans can get a jump start on owning the exclusive merchandise today by pre-ordering bundles exclusively at Pledge Music. Various bundles will include, colored vinyl, cassette tape, commemorative poster/lithograph, vintage t-shirt, vinyl test pressings, a limited-edition, numbered drum head, a flexi single of Wild Side, Girls, Girls, Girls" patch, and more. The band recently celebrated the thirtieth anniversary on the album's actual release date – May 15th — with the announcement of the August 25th reissue.
Motley Crue paved the way for rock bands to push the envelope since the band's inception and their music, as well as their antics, provided them a successful thirty-six-year career as a leading force in rock around the world. 1987's Girls, Girls, Girls included three smash hits, Wild Side, You're All I Need and the title track, which became a global success, despite the original uncensored video being banned from MTV at the time.
Motley Crue bassist Nikki Sixx says, "It's hard to believe Girls, Girls, Girls already turned thirty this year. We went against the grain with this album when it first came out in 1987. The music and lyrics reflect what was going on in the streets of Los Angeles at that time.
A big thank you to all the fans who have made the album stand the test of time. It's really cool to now see a new generation of fans exploring and digging Girls, Girls, Girls' three decades later."
A new trailer for the Girls Girls Girls special deluxe edition can be seen below.
A product of the '80s Hollywood Sunset Strip, Motley Crue was the quintessential L.A. hair metal band. Their string of hit albums and crossover songs on radio and MTV was only matched by their over-the-top live show, mounting legal bills, and alarming drug use. By 1987, the band was dancing on a fine line between real life or death. Sixx told the "In The Studio" show what he remembered about the Billboard No. 2-charting album. "We were a mess," he said. "I know we didn't go overseas, because the management said, 'You guys go, and somebody's not coming back. Or if they do, they're coming back in a body bag… We were operating like a punk band! We were completely out of control."
Motley Crue's last studio album was 2008's Saints Of Los Angeles, which was followed by a 2009 Greatest Hits compilation.