MOTLEY CRUE FRONTMAN VINCE NEIL CELEBRATES GRAND OPENING OF NEW LAS VEGAS HOTSPOT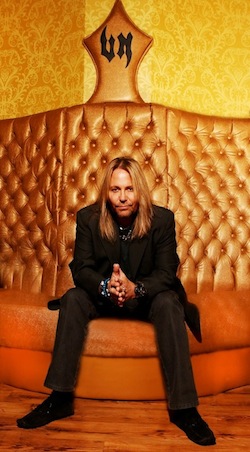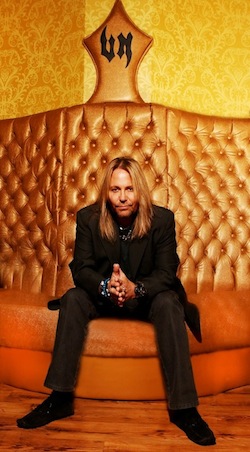 On November 5th, Vince Neil started the party with a VIP opening event for his closest friends. Vince arrived with girlfriend Rain Andreani and joined special guests that included Guns N' Roses guitarist Dj Ashba, artist Michael Godard, famed comedian and fellow "Gold Club" member Scott Thompson, a/k/a Carrot Top, Pantera's Vinnie Paul, actor Chuck McCann and rapper Coolio. Cult character actor Michael Berryman, who portrayed the principal from Motley Crue's hit video
Smokin' in the Boys Room, presented Vince with an A++ for his school assignment reminiscent of the 1985 video he appeared in. Guest musicians Paul Shortino and Andrew Freeman from the hit show Raiding the Rock Vault joined the Sin City Sinners on stage for Dio's classic, Rainbow in the Dark; and Ron Keel covered Whole Lotta Love by Led Zeppelin.
The venue is truly a tribute to Vince Neil's momentous career spanning over three decades and includes the rocker's gold and platinum records mixed in with memorabilia of some of his most prized possessions, including a few stage costumes and even his racing suit displayed on mannequins. The décor, straight out of the Decade That Rocked on the Sunset Strip, is filled with an array of iconic photographs of Vince by rock photographer Mark "Weissguy" Weiss, who was an integral part of the creative vision for the restaurant and bar areas.
"This is great! It reminds me of the Rainbow back in the day–the red booths, the photos, the album covers. It's a great hang! It's almost like making a
record. You have this thought in your head and you see it progress and progress. Then, all of a sudden you hold the album in your hand–like back in the day–and you say oh my god. This turned out so good. It's the same thing when someone opens a restaurant or bar. You have a vision and you see it finished. You look around and you say wow– this really turned out great!!"
"I want this to be a cool hangout not only for the locals here and the local rockers in Las Vegas, but the bands that come into town to play the clubs in
Vegas… and this is the place to come hang out afterward or before." Vince Neil told Ron Keel on his radio show "The Streets of Rock & Roll" at the Grand Opening.
Saturday night, Neil welcomed the public to experience Eat-Drink-Party! for the first time with a night of live entertainment by the Rat Pack of Rock N' Roll, Sin City Sinners, along with plenty of scantily clad go-go girls dancing on the bar tops. Vince spent the majority of the evening in his custom-designed Gold Room, hanging with venue co-owners and longtime restaurant aficionados David Tuttleman and Mark Green. Saturday's Grand Opening event welcomed notable faces in the crowd such as Chris Phillips of Zowie Bowie, Felix Silla, Cousin Itt from the Adams Family, Phil Lewis of L.A. Guns, master puppeteer Bill Diamond and more. Just before 11 PM, Vince thrilled the amped-up crowd when he joined the Sinners to perform Highway to Hell by AC/DC and Rock and Roll by Led Zeppelin. Next up, Pantera's Vinnie Paul joined in a chorus of Run to the Hills by Iron
Maiden and Rock and Roll Hall-of-Famer, Howard Leese (Heart, Bad Company and Raiding the Rock Vault) performed All Right Now by Free. John Payne (Asia,Raiding the Rock Vault) and the Sinners closed the show with a fitting rendition of With a Little Help From My Friends.
EAT-DRINK-PARTY! serves up a mouth-watering menu of food and drink, including Vince's signature Tatuado brand. The winning combination of Neil's affinity for tattoos and tequila along with Tuttleman and Green's emphasis on a party-like environment is the perfect showcase to host a variety of entertainment events. Everything from national acts and local Vegas rock stars to tribute acts, book signings, CD release parties, acoustic performances and meet and greets, are all planned for the venue.
"I have wanted to expand the Tatuado brand and bring it to The Strip for awhile," said Vince Neil. "Teaming with David and Mark to recreate Rock & Rita's
into my own spot will create a true home for the brand. People can come have a great time and enjoy my signature line of spirits while they party."
To view photos from Vince Neil's EAT-DRINK-PARTY, go to www.markweiss.com/EDP_party_and_interiors_web.
For more information on Vince Neil's Tatuado EAT-DRINK-PARTY, Vince Neil's Party Bus Bar and Rock & Rita's sports bar at Circus Circus, please visit www.VinceNeilsParty.com.
Watch a video, featuring highlights from the grand opening, below.